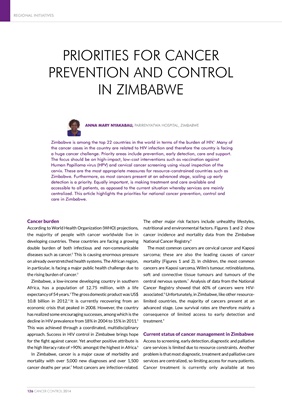 government hospitals in Harare and Bulawayo; private
chemotherapy services are also available, mainly in the cities.
There are no private radiotherapy services in the country.
The centralized nature of the services also poses transport
and accommodation problems, leading to treatment delays.
Furthermore, the functional capacity of the existing centres is
sub-optimal due to limitations on radiotherapy equipment,
chemotherapy drugs, pain control medication and skilled
staff. Inadequate supplies of chemotherapy drugs in state
pharmacies force patients to source them from private
pharmacies. Meanwhile, the more affluent patients seek
services outside the country compromising national income.
Non-governmental organizations, such as the Cancer
Association of Zimbabwe (cancer awareness and support),
the Hospice Association of Zimbabwe and Island Hospice
(palliative care) and KIDZCAN (children's cancer care) do
complement government cancer control activities but
unfortunately, they too are mainly centralized.
Additional support is received from
international organizations such as the United
Nations.
Additional problems include a shortage
of pathologists, radiologists and surgical
oncologists in government service and again,
most are available in the cities and in private
practice, compromising access and early
diagnosis. Moreover, planned operations are
often postponed to make way for more acute
cases, further delaying surgical management.
With regard to costs, many patients cannot
afford the fees for services such as
screening, biopsy, staging investigations and
chemotherapy, and palliative care medication.
Social welfare funds are inadequate and
selective. Only a minority of patients have
health insurance and in many situations,
reimbursement for service provision is rationed.
Priorities for cancer control in
Zimbabwe
The burden of disease, available resources,
feasibility, impact and cost-effectiveness of
interventions should determine priorities.
According to WHO recommendations, a
national cancer plan2 should underpin the
priorities for cancer control. Zimbabwe has a
draft Cancer Prevention and Control Strategy,
which outlines priorities for cancer prevention
and control. Following an imPACT (Programme
of Action of Cancer Therapy assessment) mission, a cancer
"prevention and control strategy" was recommended. A
concerted effort by various stakeholders planned a feasible,
cost-effective, appropriate, evidence-based and sustainable
cancer prevention and control strategy. The aim of the
strategy includes reducing cancer incidence, mortality and
morbidity. Finalization and launch of the National Cancer
Prevention and Control Strategy needs to be given priority.
Primary prevention
According to the WHO, 30-40% of cancers are preventable.2
For resource-constrained environments such as Zimbabwe,
prevention would be the most cost-effective intervention
with the greatest public health potential. Zimbabwe has to
formulate a national cancer prevention communication
strategy. Policies on environmental pollution control, tobacco
and alcohol control have been formulated but not
REGIONAL INITIATIVES
CANCER CONTROL 2014 127
Other
30%, 30%
Other
Cervix
KS
NMS
Breast
Prostate
NHL
Eye
Oesophegal
Colorectal
Cervix
18%, 18%
Breast
8%, 8%
NMS
8%, 8% KS
12%, 12%
Prosate
6%, 6%
NHL
6%, 6%
Eye
4%, 4%
Oesophegeal
4%, 4%
Colorectal
4%, 4%
Figure 1: Cancer incidence by type in Zimbabwe, 2010
Source: ZNCR 2010
Stomach
4%, 4%
Colo rectal
5%, 5%
Liver
6%, 6%
NHL
6%, 6%
Breast
6%, 6%
Oesophageal
7%, 7%
Prostate
8%, 8%
Other
33%, 33%
Cervix
15%, 15%
KS
10%, 10%
Cervix
KS
Prostate
Oesophageal
Breast
NHL
Liver
Colorectal
Stomach
Other
Figure 2: Cancer mortality in Zimbabwe, 2010
Source: ZNCR 2010