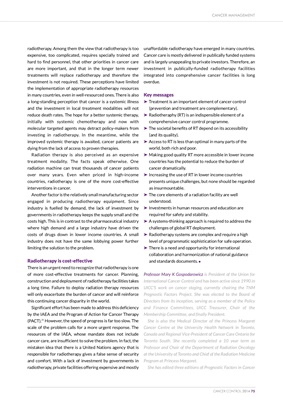 CANCER MANAGEMENT
76 CANCER CONTROL 2014
References
1. Sylla BS, Wild CP: A million africans a year dying from cancer by 2030: what can
cancer research and control offer to the continent? Int J Cancer 130:245-50, 2012
2. Farmer P, Frenk J, Knaul FM, et al: Expansion of cancer care and control in countries
of low and middle income: a call to action. Lancet 376:1186-93, 2010
3. Delaney G, Jacob S, Barton M: Estimation of an optimal external beam radiotherapy
utilization rate for head and neck carcinoma. Cancer 103:2216-27, 2005
4. Delaney G, Jacob S, Barton M: Estimating the optimal external-beam radiotherapy
utilization rate for genitourinary malignancies. Cancer 103:462-73, 2005
5. Delaney G, Jacob S, Barton M: Estimating the optimal radiotherapy utilization for
carcinoma of the central nervous system, thyroid carcinoma, and carcinoma of
unknown primary origin from evidence-based clinical guidelines. Cancer 106:453-65,
2006
6. Delaney G, Jacob S, Featherstone C, et al: The role of radiotherapy in cancer
treatment: estimating optimal utilization from a review of evidence-based clinical
guidelines. Cancer 104:1129-37, 2005
7. Foroudi F, Tyldesley S, Barbera L, et al: Evidence-based estimate of appropriate
radiotherapy utilization rate for prostate cancer. Int J Radiat Oncol Biol Phys 55:51-63,
2003
8. Foroudi F, Tyldesley S, Walker H, et al: An evidence-based estimate of appropriate
radiotherapy utilization rate for breast cancer. Int J Radiat Oncol Biol Phys 53:1240-53,
2002
9. Shafiq J, Delaney G, Barton MB: An evidence-based estimation of local control and
survival benefit of radiotherapy for breast cancer. Radiother Oncol 84:11-7, 2007
10.tyldesley S, Boyd C, Schulze K, et al: Estimating the need for radiotherapy for lung
cancer: an evidence-based, epidemiologic approach. Int J Radiat Oncol Biol Phys
49:973-85, 2001
11.tyldesley S, Delaney G, Foroudi F, et al: Estimating the need for radiotherapy for
patients with prostate, breast, and lung cancers: verification of model estimates of
need with radiotherapy utilization data from British Columbia. Int J Radiat Oncol Biol
Phys 79:1507-15, 2011
12.tyldesley S, McGahan C: Utilisation of radiotherapy in rural and urban areas in British
Columbia compared with evidence-based estimates of radiotherapy needs for
patients with breast, prostate and lung cancer. Clin Oncol (R Coll Radiol) 22:526-32,
2010
13.rosenblatt E, Izewska J, Anacak Y, et al: Radiotherapy capacity in European countries:
an analysis of the Directory of Radiotherapy Centres (DIRAC) database. Lancet Oncol
14:e79-86, 2013
14.mackillop WJ, Bates JH, O'Sullivan B, et al: The effect of delay in treatment on local
control by radiotherapy. Int J Radiat Oncol Biol Phys 34:243-50, 1996
15.rosenblatt E, Zubizarreta E, Wondergem J, et al: The International Atomic Energy
Agency (IAEA): an active role in the global fight against cancer. Radiother Oncol
104:269-71, 2012
16.abdel-Wahab M, Bourque JM, Pynda Y, et al: Status of radiotherapy resources in
Africa: an International Atomic Energy Agency analysis. Lancet Oncol 14:e168-75,
2013
17.goss PE, Lee BL, Badovinac-Crnjevic T, et al: Planning cancer control in Latin America
and the Caribbean. Lancet Oncol 14:391-436, 2013
18.lievens Y, Grau C: Health economics in radiation oncology: introducing the ESTRO
HERO project. Radiother Oncol 103:109-12, 2012
19.slotman BJ, Cottier B, Bentzen SM, et al: Overview of national guidelines for
infrastructure and staffing of radiotherapy. ESTRO-QUARTS: work package 1.
Radiother Oncol 75:349-54, 2005
20.frenk J, Chen L, Bhutta ZA, et al: Health professionals for a new century:
transforming education to strengthen health systems in an interdependent world.
Lancet 376:1923-58, 2010
21.salminen E, Izewska J, Andreo P: IAEA's role in the global management of cancerfocus on upgrading
radiotherapy services. Acta Oncologica 44:816-824, 2005
and the seventh edition of the TNM Classification of
Malignant Tumours, as well as authoring more than 250 peerreviewed
articles, book chapters, and letters. She is past chair of
the National Cancer Institute of Canada Clinical Trials Group
Genitourinary Committee. and is currently member of the
Board of Directors of the International Extranodal Lymphoma
Study Group and the Scientific Advisory Boards of the
Lymphoma Foundation of Canada.
She is also an Fellow of the American Society of Radiology and
Oncology, honorary fellow of the Royal College of Radiologists
in the United Kingdom, an Honorary Member of the European
Society of Therapeutic Radiology and Oncology, and a past
President of the Canadian Association of Radiation Oncologists.