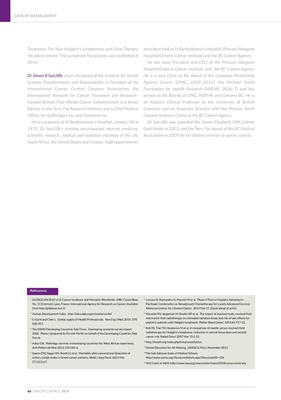 CANCER MANAGEMENT
CANCER CONTROL 2014 67
P
rimary health care, hereafter referred as primary care
(PC), involves providing universally accessible
essential health care based on acceptable, pragmatic,
scientifically sound and socially acceptable methods and
technology to individuals and families in the community.1 PC
is about caring for people, rather than specific diseases,
constitutes the foundation of health services for the
population at large and has become a core concept of World
Health Organization's (WHO) goal of "Health for All". PC is
often the first point of contact between people and health
care providers in the health care system. A primary health
care approach is the single most efficient and cost-effective
foundation to build a health system on. International
evidence overwhelmingly demonstrates that health systems
oriented towards primary health care produce better
outcomes, at lower costs and with higher user satisfaction.
Protecting populations from risks to health and illness by
prevention and health promotion is the core objective of PC.
The aim is to provide an easily accessible route to care for
people with common illnesses, as well as for chronic diseases
such as diabetes, and the prevention of future ill-health
through advice, immunization and early detection.
Professionals working in PC are general doctors, nurses,
midwives and health workers, dealing with a broad range of
physical, psychological and social problems, rather than
highly qualified specialists in any particular disease area.
The most common source of PC in rural areas are
government health services. In many low- and middle-income
countries these services are found at the primary health
centre (PHC), a dispensary or a polyclinic in urban areas, and
with the general practitioners (GPs) in these centres or in the
private/voluntary sector. More than 80% of clinical care in
the United Kingdom is delivered in general practice and the
PC practitioners refer less than 5% of their patients each year
for specialist consultations, opinions and hospital
investigations.2,3 Recently, there has been renewed interest
in the potential of PC to deliver the global health policy
agendas with the new focus on non-communicable diseases.4
The frequent interaction of apparently healthy people with
PC provides important opportunities for cancer prevention,
screening and early diagnosis as well as for providing followup care for treated cancer patients.
EARLY DETECTION OF
COLORECTAL CANCER AT PRIMARY
CARE LEVEL HEALTH SERVICES
RENGASWAMY SANKARANARAYANAN, (LEFT) HEAD SCREENING GROUP, HEAD EARLY
DETECTION AND PREVENTION SECTION, INTERNATIONAL AGENCY FOR RESEARCH ON
CANCER, LYON, FRANCE, PARIMAL J JIVARAJANI, (MIDDLE) ASSOCIATE PROFESSOR AND
HEAD OF DEPARTMENT OF COMMUNITY ONCOLOGY AND MEDICAL RECORDS, GUJARAT
CANCER & RESEARCH INSTITUTE, MP SHAH CANCER HOSPITAL, CIVIL HOSPITAL CAMPUS, ASARWA,
AHMEDABAD, INDIA AND YOU-LIN QIAO, (RIGHT) CHIEF, DEPARTMENT OF CANCER EPIDEMIOLOGY,
CANCER INSTITUTE, CHINESE ACADEMY OF MEDICAL SCIENCES, AND PEKING UNION MEDICAL COLLEGE,
BEIJING, CHINA
Protecting populations from the risk of illness by prevention and promoting a healthy lifestyle are
core objectives of primary care (PC). Frequent interaction with PC personnel promotes cancer
prevention, screening and early diagnosis as well as follow-up care for treated patients. Given
the increasing burden and risk of colorectal cancer (CRC) in low- and middle-income countries,
involving PC in its early detection and prevention is a pragmatic implementation option for CRC
control. PC practitioners who can identify people with persistent symptoms, provide a CRCrelated examination, faecal occult blood tests and refer patients with suspected CRC to
specialists will promote CRC early detection.