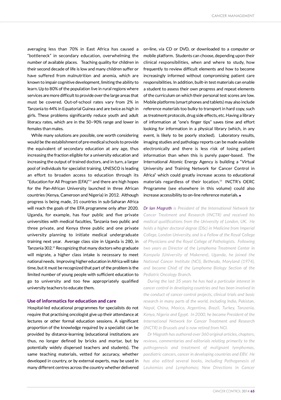 Treatment; The Non-Hodgkin's Lymphomas; and Gene Therapy.
His latest volume The Lymphoid Neoplasms was published in
2010.
Dr Simon B Sutcliffe chairs the Board of the Institute for Health
Systems Transformation and Sustainability; is President of the
International Cancer Control Congress Association, the
International Network for Cancer Treatment and Research-
Canada Branch (Two Worlds Cancer Collaboration); is a Senior
Advisor to the Terry Fox Research Institute and is Chief Medical
Officer for QuBiologics Inc. and Omnitura Inc.
He is a graduate of St Bartholomew's Hospital, London, UK in
1970. Dr Sutcliffe's training encompassed internal medicine,
scientific research, medical and radiation oncology in the UK,
South Africa, the United States and Canada. Staff appointments
have been held at St Bartholomew's Hospital, Princess Margaret
Hospital/Ontario Cancer Institute and the BC Cancer Agency.
He has been President and CEO of the Princess Margaret
Hospital/Ontario Cancer Institute and the BC Cancer Agency.
He is a past Chair of the Board of the Canadian Partnership
Against Cancer (CPAC, 2009-2012), the Michael Smith
Foundation for Health Research (MSFHR, 2006-7) and has
served on the Boards of CPAC, MSFHR, and Genome BC. He is
an Adjunct Clinical Professor at the University of British
Columbia and an Associate Scientist with the Michael Smith
Genome Sciences Centre at the BC Cancer Agency.
Dr Sutcliffe was awarded the Queen Elizabeth 50th Jubilee
Gold Medal in 2003, and the Terry Fox Award of the BC Medical
Association in 2009 for his lifetime services to cancer control.
CANCER MANAGEMENT
66 CANCER CONTROL 2014
References
1. GLOBOCAN 2012 v1.0, Cancer Incidence and Mortality Worldwide: IARC CancerBase
No. 11 [Internet]. Lyon, France: International Agency for Research on Cancer. Available
from http://globocan.iarc.fr.
2. Human Development Index. http://hdr.undp.org/en/statistics/hdi
3. Crisp N and Chen L. Global supply of Health Professionals. New Eng J Med; 2014; 370:
950-957.
4. The ESMO Developing Countries Task Force. Developing countries survey report
2006. Phase I (prepared by Purvish Parikh on behalf of the Developing Countries Task
Force).
5. Adeyi OA. Pathology services in developing countries-the West African experience.
Arch Pathol Lab Med. 2011;135:183-6.
6. Soares EW, Nagai HM, Bredt LC et al. Morbidity after conventional dissection of
axillary lymph nodes in breast cancer patients. World J Surg Oncol. 2014 Mar
27;12(1):67.
7. Lorusso D, Ramondino S, Mancini M et al. Phase II Trial on Cisplatin-AdriamycinPaclitaxel
Combination as Neoadjuvant Chemotherapy for Locally Advanced Cervical
Adenocarcinoma. Int J Gynecol Cancer. 2014 Mar 21. [Epub ahead of print]
8. Maraldo MV, Jørgensen M, Brodin NP et al. The impact of involved node, involved field
and mantle field radiotherapy on estimated radiation doses and risk of late effects for
pediatric patients with Hodgkin lymphoma. Pediatr Blood Cancer. 2014;61:717-22.
9. Koh ES, Tran TH, Heydarian M et al. A comparison of mantle versus involved-field
radiotherapy for Hodgkin's lymphoma: reduction in normal tissue dose and second
cancer risk. Radiat Oncol. 2007 Mar 15;2:13.
10.http://hosafr.org/index.php/hosa/constitution
11.global Education for All Meeting. UNESCO, Paris, November 2012
12.the Sub-Saharan study of Medical Schools.
http://www.samss.org/literature/details.aspx?documentid=126
13.vuccnett of IAEA: http://www.iaea.org/newscenter/news/2010/canceruniversity