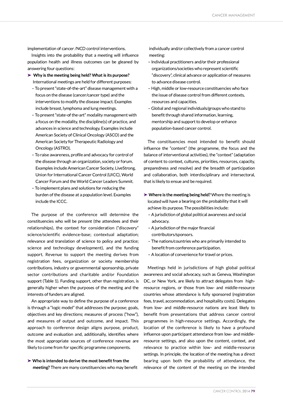 CANCER MANAGEMENT
80 CANCER CONTROL 2014
Table 1: Participation and probability of funding support according to purpose of conference/meeting
Purpose of
meeting
Disease
management
Modality
management
Advocacy, profile
awareness and
societal support
Implementation of
cancer/NCD control
plans
Targeted population
Those interested in
the biology and the
therapy of the
disease
Those who practice
the interventional
modality for
established
advanced disease
Those whose
interests relate to
awareness, profile,
support, funding and
social mobilization to
promote disease
control
Those who impact
the burden of
disease through
allocation and
implementation of
interventions to
control the disease
Domain of interest
Clinicians and
scientists
Clinicians, health
professionals,
technologists and
scientists
Health
organizations,
institutions and
agencies; advocacy
groups; health
politics and
policies; health
administration and
"mobilized society"
Public and
population health;
clinical medicine;
scientists; health
administration;
policy, health
politics; public and
private sector;
"mobilized society"
Registration fees
+++
+++
+++
(self or sponsored
registration)
+++
Organization and
institution sources
++
+++
+
___
Industry
+++
+++
++
___
Governmen
developme
agencies
___
___
++
Sources of revenue
beneficiaries and hopefully, the likelihood that
implementation or enhancement of population-based disease
control will occur.
‰ When is the meeting being held? Meetings are held in
relation to:
- The pre-determined meeting schedule of organizations
and professional societies.
- To capitalize on social change or heightened advocacy
and awareness of a health challenge.
- When conference funding and a venue are fully available
and secure.
- When there is a convergence of "national readiness" and
"conference readiness" i.e. when a government or
national organization is prepared and ready for cancer
planning and implementation.
This situation reflects the "push" of organizations (both
non-profit and for-profit) to conduct their meetings according
to their purposes and intents, and the "pull" of regions,
nations, organizations and populations to avail themselves of
information, learning and relationships because they are
committed to the implementation of population-based cancer
control plans. In this context, "preparedness/readiness" is
most likely to occur when there is:
‰ "ownership" of the cancer burden challenge by society as a
whole;
‰ clearly defined leadership and authority;
‰ stable governance and funding in the short, medium and
longer term;
‰ country-specific actions in concert with global
cooperation;
‰ collaborative (interdisciplinary) relationships/
partnerships across the disease-control spectrum;
‰ alignment to national priorities, economic growth and
development;
‰ resolve regarding self-sufficiency and sustainability of
implemented plans;
‰ commitment to evaluation and public reporting of the
"value" of the investment in cancer and NCD control.
Conclusions
The purpose of international meetings directly influences the
types of individuals and organizations attending the meeting,
the extent of regional and international participation, the
likelihood of securing external sources of funding and thus