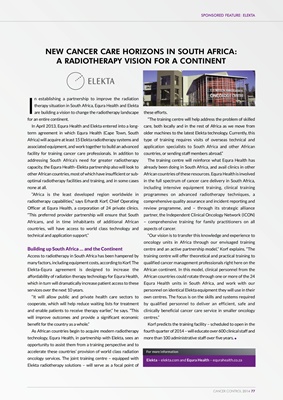 A
s the cancer control communities re-align themselves
to the Global Action Plan (GAP), resources will be put
into activities to promote cancer and NCD control.
International congresses represent one such activity. Each
year, numerous meetings address cancer and noncommunicable diseases, usually separately.
These meetings
attract thousands of attendees and generally cost in excess of
US$ 1,500 per person to plan and implement. Thus,
substantial resources are directed to international meetings
each year, presumably with the intent of enhancing cancer
control outcomes. It is unclear, however, how much impact
these meetings have on cancer control activities and how
valuable they are. These meetings are generally evaluated for
participant satisfaction regarding speakers, programme
content, presentations and logistics. The question of whether
such meetings actually influence, or impact, the ability of
individuals, organizations or nations to enhance the
implementation, application and adoption of interventions to
enhance population health and cancer/NCD outcomes (as
articulated through the GAP) is rarely, if ever, addressed.
Indeed, this question is not answered here … it cannot be
answered through surveys directed to those who attend, but
who neither influence policy nor enact broad population
practice change. Follow-up evaluations of meetings would be
more instructive if directed to the executive leadership of
organizations and constituencies whose decisions do
influence both policy and practice. In the case of ICCC-5
(Peru/Latin America), PAHO, regional cancer policy (RINC),
national health and cancer policy (MINSA/INEN) and regional
political and social mobilization advocacy (ACS; Esperantra;
LiveStrong) might reflect on the value of ICCC-5 in catalyzing
collaboration, collective commitment and galvanized
INTERNATIONAL CANCER
CONTROL CONGRESSES: DO THEY
GET US CLOSER TO THE GOALS OF
POPULATION-BASED CANCER
CONTROL?
SIMON B SUTCLIFFE, INTERNATIONAL CANCER CONTROL CONGRESS, KAVITA SARWAL, INTERNATIONAL
CANCER CONTROL CONGRESS, CATHERINE G SUTCLIFFE, INTERNATIONAL CANCER CONTROL CONGRESS,
BLOOMBERG SCHOOL OF PUBLIC HEALTH, JOHNS HOPKINS UNIVERSITY, JON KERNER, INTERNATIONAL CANCER
CONTROL CONGRESS, CANADIAN PARTNERSHIP AGAINST CANCER AND EDWARD TRAPIDO, LSU SCHOOL OF
PUBLIC HEALTH, STANLEY S SCOTT CANCER CENTRE, LOUISIANA, USA
Readily available data documents the growing burden of cancer and non-communicable diseases
(NCDs) for all nations.1 This burden is unequally distributed according to prevailing resources,2 human
development,3 geography,1-3 and capacity and preparedness to respond, with the largest burden in
areas with the least available resources and capacity. In realizing this impending global challenge, the
UN recently adopted the Global Action Plan calling upon all Member States to effect a 25% reduction
in premature mortality from NCDs, including cancer, by 2025.4 The resolution addresses activities
directed to human development, population health and health system performance and seeks a >2%
reduction per year for the next 12 years. For any nation, this goal is a daunting challenge. In fact, a
1% reduction per year has been established to date by high-resource nations over recent decades.5 For
middle/low-resource nations, achieving this goal will be a tremendous challenge and will require
strategic and progressive actions. Paradoxically, the Global Action Plan highlights a "gap" between the
high-resource world of recommendations, resolutions, rich in participation by those most able to
understand and deal with health challenges, and the resource-constrained world, comprising the bulk
of the worlds' population, who are encouraged to achieve these well-intentioned resolutions with
limited understanding, participation or resources to achieve them.
CANCER MANAGEMENT
78 CANCER CONTROL 2014