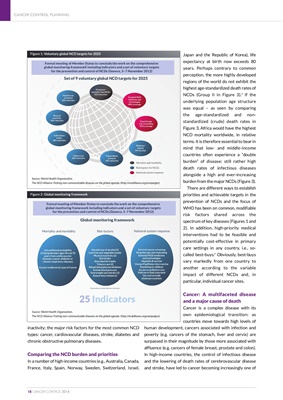 CANCER CONTROL PLANNING
CANCER CONTROL 2014 19
the main obstacles to continued
improvement in life expectancy. The
flipside, as for NCDs overall, is,
however, the double burden of
infection-related cancers and
increasing rates of cancers associated
with Western lifestyles, as observed in
low-income settings, for example, in
Uganda7 and Zimbabwe.8
Cancer is a very important cause of
death in human populations. We will
examine it in terms of "burden": as
numbers of new events (cancer cases,
cancer deaths), an indicator of the scale
and thus potential human and
economic cost of the disease, as well as
age-standardized incidence rates that
allow comparisons across populations
independently from the age structures.
In examining the cancer profiles worldwide, we mainly used
four quartiles of the UNDP Human Development Index
(HDI)9 as markers of socioeconomic development, given the
HDI takes into account levels of national education and life
expectancy as well as income.
According to WHO estimates for 2011 (http://
who.int/mediacentre/factsheets/fs310/en/), the 7.9 million
cancer deaths outrank deaths from every other major cause
Nonstandardized
Nonstandardized
Nonstandardized
Agestandardized
Agestandardized
Agestandardized
Africa
Asia
More developed regions,
excluding Eastern Europe
Developing Oceania
Latin America and the Caribbean
Eastern Europe
Group I Group II Group III
Death rate (per 1,000 persons)
12
10
8
6
4
2
0
Figure 3: Non-standardized and age-standardized death rates (World population) by cause and regions, 2008
3
; Group I = Communicable diseases;
Group II = Non-communicable diseases; Group III = Injuries
0 2 4 6 8
Deaths (Millions)
Malignant neoplasms
Ischaemic heart disease
Stroke
Lower respiratory infections
COPD
Diarrhoeal diseases
HIV/AIDS
Diabetes mellitus
Road injury
Preterm birth complications
7.87
7.02
6.25
3.20
2.97
1.89
1.59
1.39
1.26
1.17
Figure 4: The 10 leading causes of death worldwide9
Source: Global Health Observatory Data Repository
COPD: chronic obstructive pulmonary disease
Source: World Health Organization. Mortality estimates by cause, age and sex for the year 2008