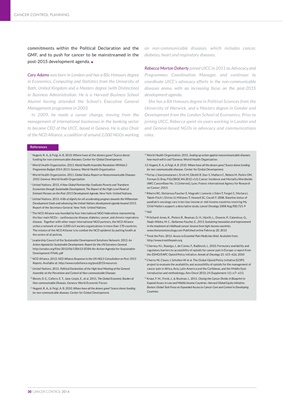 CANCER CONTROL PLANNING
CANCER CONTROL 2014 31
N
on-communicable diseases (NCDs) are the world's
number one killer, bringing hardship to rich and
poor nations alike. As the largest contributors to
mortality both globally and in the majority of low- and
middle-income countries, NCDs account for 60%, or 35
million of all deaths worldwide, exacting a high toll on
population well-being and economic vitality.
1 The largest
burden - 80% (28 million) - occurs in low- and middleincome countries, making NCDs an urgent development
issue as well as a major cause of poverty. They will be the
leading global cause of disability by 2030.2
The adoption by the UN General Assembly of the UN
Political Declaration on NCD prevention and control in 2011
was a landmark moment, putting cancer and NCDs on the
political - not just health - agenda. The Declaration contains
22 action-oriented commitments covering the spectrum of
NCD prevention, treatment and care. It commits
governments to ensuring that NCDs are at the centre of
health and development planning, increasing resources and
driving a whole-of-society and whole-of-government
response to the problem. In essence, it lays the foundation for
a new era of political leadership, multisectoral action, and
international cooperation on NCDs.3 The specificities of
cancer control (e. g. vaccination and screening) are an integral
part of the declaration and particularly mentioned in the
narrative as disease-specific interventions.
The UN Political Declaration 2011 also has set in motion a
World Health Organization (WHO) led and Member States
driven process to develop a new global architecture for NCDs
that comprises four core elements:
‰ The Global NCD Action Plan (GAP) as agreed by the
World Health Assembly 2013 will define the priorities
over the next seven years and recommend clear actions
for all sectors;
‰ The Global Monitoring Framework and its targets and
indicators as part of the GAP to monitor progress
towards its implementation;
‰ The establishment of the NCD United Nations
Interagency Task Force;
‰ A Global Coordination Mechanism will mobilize
multisectoral action and resources of a broad range of
stakeholders to see the plan fully implemented.4
Clinical cancer care plays a significant role in global cancer
control, and two of the nine voluntary targets for 2025 (as a
follow-up of the UN Political Declaration5) are closely
related: the global target (25 by 25) for reduction in cancer
mortality, and the target on coverage by essential NCD
medicines and technologies. In this context, the European
Society for Medical Oncology (ESMO) aims to play a pivotal
ESMO'S GLOBAL CANCER TASK
FORCE: PROMOTING CANCER
AND NON-COMMUNICABLE
DISEASE CONTROL WORLDWIDE
JOSE M MARTIN-MORENO (LEFT) MEMBER, ESMO PUBLIC POLICY COMMITTEE,
EDUARDO CAZAP (MIDDLE) DEPUTY CHAIR, ESMO EMERGING COUNTRIES
COMMITTEE AND DAVID KERR (RIGHT) PAST ESMO PRESIDENT AND MEMBER, ESMO
EMERGING COUNTRIES COMMITTEE
The primary goal of the ESMO Global Cancer Task Force is to make the case for better cancer
screening and care within the broader agenda of the WHO Global NCD Action Plan 2013-
2020 for the Prevention and Control of Non-communicable Diseases. Specific objectives will
be pursued in collaboration with leading oncology societies, through a pooling of technical
and scientific expertise as well as through knowledge-brokering actions carried out with
national and European policy-makers and political advisers.