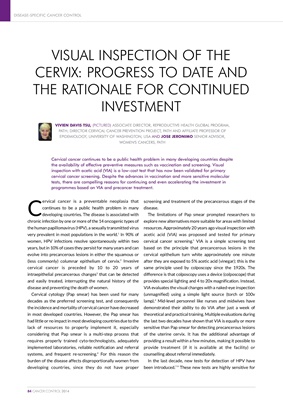 detection of precancer and cancer, and they have the
advantage that the screening can be done using a vaginal
sample self-collected by women without the need of a
speculum exam.10,11 Now we have the potential for reaching
women at their communities or homes and inviting them to
collect a sample for primary screening using HPV testing.
Even in this new scenario, though, women with a positive
HPV test result will require a pelvic examination and direct
visual evaluation of the uterine cervix to determine if
precancerous or cancerous changes are already occurring
and what treatment is appropriate. Therefore, VIA will still be
required for screening programmes even when HPV testing
comes into wider use.
Another area of progress in the fight against cervical
cancer has been the introduction of vaccines against HPV.
The vaccines have proven to be highly effective for
preventing infection with the serotypes included in them, but
the current vaccines include only two oncogenic HPV types
responsible for approximately 70% of the cases of cervical
cancer worldwide. VIA will still be required for the screening
of vaccinated women to detect the 30% of the remaining
disease that is not covered by the current vaccines. In
addition, the global introduction of these vaccines over the
next decade will not benefit the huge cohort of women who
were beyond vaccination age or already infected with HPV
and are in need of cervical cancer screening.
With the articulation of new targets for non-communicable
disease (NCD) programmes, cervical screening has been
identified as a key indicator of progress towards cancer
control.12 For most low- and middle-income countries, VIA is
the only way currently to achieve high levels of coverage with
screening and treatment services. Developments in all these
different aspects of cervical cancer prevention make it timely
to reflect on how far we have come and whether to continue
to invest in VIA.13
Progress with VIA
There has been significant progress in the introduction and
acceptance of VIA for cervical cancer screening. In the early
days health care providers were sceptical about the value of
the test since it looked "too simple" compared to Pap smear.
The large body of evidence generated as part of the Alliance
for Cervical Cancer Prevention (ACCP) showed that in most
settings VIA was more sensitive for detecting precancer than
Pap smear.14 Even though it is difficult to implement rigorous
effectiveness studies in areas with limited resources,
Sankaranarayanan et al15 performed a study in India where a
single round of VIA screening, accompanied by treatment
when needed, reduced cervical cancer mortality by 35% in
the overall group of women aged 30 to 59 and by 66% among
women aged 30 to 39 years. The same authors published
later another study in a different part of India with less
positive results for VIA, but the reduction of mortality
attributable to VIA was better than that obtained with Pap
smear screening.16
Another important landmark in the in the introduction of
VIA is its inclusion as a primary screening method in the new
guidelines recently published by the World Health
Organization (WHO).17 Those guidelines recommend VIA as a
screening test over Pap smear unless cytology is already
established and working well. In areas where there is no
screening at all and where HPV testing is not yet feasible, it is
recommended to start a programme using VIA instead of
trying to implement Pap smear. Using VIA as the screening
test, it is still possible to develop the rest of the programme
structure - such as community mobilization, precancer
treatment, referral for complex care and record systems for
patient and programme monitoring - that can be the
platform when better molecular screening tests become
widely available.
Fortunately, we now have better and more standardized
training materials that can be implemented in countries
interested in starting a VIA-based screening programme.
Recently PATH partnered with Jhpiego and the Peruvian
Cancer Institute (INEN) to develop a training excellence
centre (TEC) in Peru and to validate training materials for
Latin America. The package of materials includes manuals
and guides for training community promoters to educate
women about the need for screening, materials for training
health providers in VIA and cryotherapy, and materials for
maintaining quality among providers who are performing
VIA. These materials are currently used widely in multiple
countries in Latin America, and are being complemented by a
web-based tool for providing the reinforcement of skills to
providers in the field. As a result of this effort, we now have
thousands of providers with skills for VIA and cryotherapy in
There has been significant progress
in the introduction and acceptance
of VIA for cervical cancer screening.
In the early days health care
providers were sceptical about the
value of the test since it looked "too
simple" compared to Pap smear
DISEASE-SPECIFIC CANCER CONTROL
CANCER CONTROL 2014 85