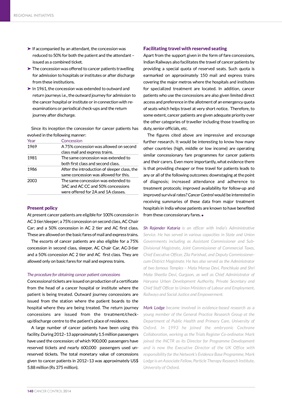 REGIONAL INITIATIVES
CANCER CONTROL 2014 141
T
he Indian Cancer Congress 2013 (ICC) was the first
such combined meeting organized by a consortium of
the four major oncology associations in India to
critically review the status and discuss the future of cancer
care in India (indiancancercongress2013.org). The Indian
Society of Oncology (ISO), Indian Society of Medical and
Pediatric Oncology (ISMPO), Indian Association of Surgical
Oncology (IASO) and Association of Radiation Oncologists of
India, (AROI) worked together to plan and conduct this
historic conference. ICC 2013 was deemed a great success
and the next meeting (to be held every four years) is planned
for Bangalore in 2017.
ICC 2013 was designed to engage all of the major disciplines
involved in cancer prevention, screening, diagnosis,
multidisciplinary therapy and palliative care. Indian societies
of medical, surgical and radiation oncology, as well as oncology
nursing and basic cancer researchers, had jointly planned the
ICC over the preceding three years with input from the
thought leaders of Indian oncology. Oncology education was a
major theme of the meeting and the Open Educational
Resources for Cancer in India (OERC-India) team from the
United States was invited to lead several educational sessions.
The team, led by oncologists Dr Madhavan Pillai of
Jefferson University Kimmel Cancer Center in Philadelphia
and Dr Lawrence Lessin of the Washington Cancer Institute,
included Dr Savitri Singh-Carlson and Ms Jeanne Sewell, both
nurse educators, and Anil Srivastava, an expert in online
education, of the Open Health Sciences Laboratories in
Rockville, MD. Amb Balakrishnan of New Delhi headed up the
patient advocacy and public education sessions. The OERC
group lectured, participated on panels and led discussions on
online learning, oncology nursing, continuing medical
education, public education and the principal plenary
presentation, "OERC-India as resource for professional
education".
Moreover, the broad range of ICC presentations by Indian
and international experts provided the OERC-India team with
a comprehensive status assessment of the major aspects of
cancer control and care in India and underscored the need for
increasing provider capacity and competence through
education.
We learned that the age adjusted incidence rate for all types
of cancer in India ranges between 106-130 per 100,000
people among men and 100-140 for women. These incidence
figures are predicted to increase seven-fold by 2025. With the
current patient load of one million new cancer patients every
year, the ratio of cancer patients to oncologists in India is
1,600 to 1 compared to 100 to 1 in the United States. Steps
have already been taken to increase the oncology provider
capacity by at least four-fold in the near future, so that India
OERC-INDIA INAUGURATED AT
THE INDIAN CANCER CONGRESS
IN NEW DEHLI
LAWRENCE S LESSIN (LEFT), MEDICAL DIRECTOR, DEPARTMENT OF CONTINUING
MEDICAL EDUCATION AND QUALITY TRAINING, WASHINGTON HOSPITAL CENTER,
USA, MADHAVAN V PILLAI (CENTRE LEFT), ADJUNCT PROFESSOR OF ONCOLOGY,
THOMAS JEFFERSON UNIVERSITY, PHILADELPHIA, USA, SAVITRI SINGH-CARLSON
(CENTRE RIGHT), ASSISTANT DIRECTOR, GRADUATE PROGRAM AND ASSOCIATE PROFESSOR IN NURSING,
CALIFORNIA STATE UNIVERSITY, LONG BEACH, USA AND JEANNE SEWELL (RIGHT), NURSING PROFESSOR
AT GEORGIA COLLEGE, MILLEDGEVILLE, USA
In November 2013, more than 5,000 Indian oncologists, oncology nurses, social workers and
other cancer caregivers convened for a four-day congress in New Delhi, India, that was focused
on the assessment and enhancement of cancer care in India and the education of health care
professionals. This article outlines the findings of that meeting and the role that OERC-India
can play in advancing oncology learning in India.