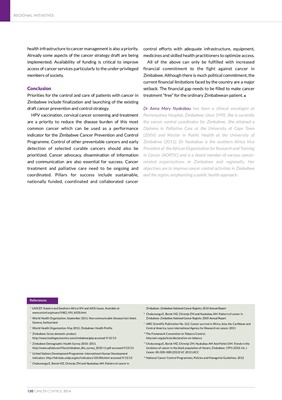 REGIONAL INITIATIVES
CANCER CONTROL 2014 131
W
ith the rapid economic development of China,
tremendous changes have been seen in the
Chinese population because of environmental
conditions, chronic infection, dietary intake, nutritional
status and lifestyle factors. As a consequence, the cancer
burden in China has increased over the past three decades.1
In the latest report from the National Cancer Registry
Centre, the estimate of total nationwide cancer cases and
cancer deaths in China was approximately 3.5 million and 2.5
million per year respectively in 2009, with the incidence (agestandardized rate
with the world standard population
[WASR]) of 191.72 per 100,000 and mortality (WASR) of
115.65 per 100,000, respectively.2 Although the total cancer
incidence rate was higher in urban areas than in rural areas,
the upward trend in rural areas was more obvious than in
urban areas.3
Among known and avoidable risk factors causing cancer
deaths in the Chinese population, the most important are
chronic infection (29.4%), tobacco smoking (22.6%), low fruit
intake (13.0%), alcohol drinking (4.4%), low vegetable intake
(3.6%) and occupational exposure (2.7%).4 However, the
ranks are different when stratified by gender. The top six
factors in men are tobacco smoking, chronic infection, low
fruit intake, alcohol drinking, low vegetable intake and
occupational agents; whilst those in women are chronic
infection, low fruit intake, tobacco smoking, low vegetable
intake, occupational agents and environmental agents.4
Because prevention (such as changing lifestyles) is a longterm effort and the effects will not been seen in the near
future, then secondary prevention, which is known as early
detection and early treatment, is the most effective measure
for cancer control and prevention in China.
Following the guidelines of "Programme of Cancer
Prevention and Control in China (2004-2010)" which has
CANCER SCREENING AND
PREVENTION IN CHINA
LE-NI KANG (LEFT) AND RYOU-LIN QIAO (RIGHT), DEPARTMENT OF CANCER EPIDEMIOLOGY,
NATIONAL CANCER CENTRE, CANCER HOSPITAL, CHINESE ACADEMY OF MEDICAL SCIENCES
AND PEKING UNION MEDICAL COLLEGE, BEIJING, CHINA
Due to the increasing burden of cancer in China, the Chinese government launched a series of
projects on cancer screening and prevention. Cervical and breast cancer screening are the most
successful ones which cover a large number of rural women all over China. Screening has
increased the detection of early cancer cases which could be treated more effectively. New
technologies and highly efficient strategies are essential for expanding the current screening
programmes to the whole population at risk.
Table 1: Demonstration project on the early detection and treatment of cancer in rural China, 2008
Cancer types No. of Target population Screening Methods
Sites Ages (years) Gender
Cervical cancer 3 30-54 Female VIA/VILI followed by colposcopy
Esophageal cancer 3 40-69 Male/female Endoscopy
Colorectal cancer 2 40-74 Male/female QRA and FOBT followed by DRE and colonoscopy
Liver cancer 2 35-64 (Male); 45-64 (Female) HBsAg followed by AFP and ultrasound
Nasopharyngeal cancer 2 30-59 Male/female CE and EBV antibody (VCA/IgA) detection
followed by fibronasopharyngoscopy
Gastric cancer 1 40-69 Male/female QRA and serum PG detection followed by
gastroscopy
Abbreviations: VIA: visual inspection with acetic acid; VILI: visual inspection with Lugol's iodine; QRA: quantitative risk assessment; FOBT: faecal occult blood testing; DRE: digital rectal
examination; AFP: alpha-fetopro-tei; CE: clinical examination; EBV: Epstein-barr virus; VCA: virus capsid antigens; PG: pepsinogen.