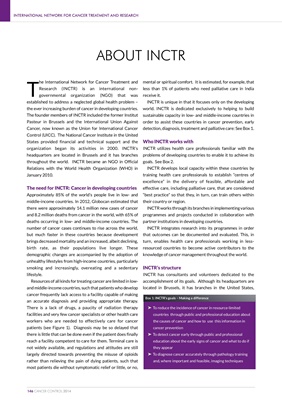 INTERNATIONAL NETWORK FOR CANCER TREATMENT AND RESEARCH
CANCER CONTROL 2014 147
Canada, Brazil, United Kingdom, France, Egypt and Nepal.
Branches are legally established NGOs that contribute to and
conduct independant programmes and projects that are
relevant to INCTR's mission. INCTR, in collaboration with
INCTR USA, he just established a branch in India.
Resource development, administration and programmes
are supervised by an Executive Committee or directly by the
branches. The Executive Committee is responsible to
INCTR's Governing Council. Programmes and projects
involving treatment are developed with the participation,
input and advice of various INCTR committees and strategy
groups as well as independent scientific advisers.
Programmes and projects are conducted in collaboration
with partner institutions involved with cancer research,
treatment, including palliative care, and education in
countries with limited resources.
Individuals, institutions or organizations often choose to
serve as Associate Members who contribute financially to the
work of INCTR (see Figure 2).
What does INCTR do?
INCTR addresses all aspects of cancer control with the
overall goal of lessening the morbidity and mortality from
cancer. It emphasizes training and education of health care
professionals in low- and middle-income countries to ensure
that "best practices" are instilled in cancer prevention, early
detection, diagnosis, treatment and palliative care. Research
is an integral part of its work with its partners in these
countries in order to accurately document the cancer burden
- including the types of cancer and extent of disease, the
outcomes of prevention and early detection campaigns and
the efficacy of treatment delivered. It also emphasizes public
awareness of cancer.
INCTR has a variety of programmes that are carried out in
close collaboration with its branches as well as its partner
institutions in developing countries. INCTR's current
programmes include:
‰ adult oncology;
‰ cancer registries;
‰ clinical research;
‰ foundational;
‰ oncology nursing;
‰ To build capacity for cancer prevention, diagnosis,
treatment and palliation through professional education
and training
‰ To conduct, or provide materials for the conduct of
educational campaigns for the public and primary care
doctors about the causes of cancer and living a healthier life
‰ To work with experts in-country to conduct locally relevant
research on cancer control
Box 2: Strategies
Founder and
active members
Associate members
Advisory Board
Branches
Programmes
Clinical research
Pathology
Paediatric oncology
Cancer registry
Oncology nursing
Foundational
Palliative care
Governing Council
Executive Committee
Committees
Ethical
review
OERC
consortium Funding
Disease-specific
startegy groups
Figure 2: INCTR structure
0 5 10 15 20 25 30 35 40 45
30
25
20
15
10
5
0
% of global workforce
Size of the dots is proportional to total health expenditure% of global burden of disease
Western Pacific
Europe
Americas
Africa
South-East Asia
Eastern Mediterranean
(Source: WHO, 2006)
Distribution of health workers by level of health expenditure
and burden of disease, WHO regions
Figure 1: Disease burden and resources