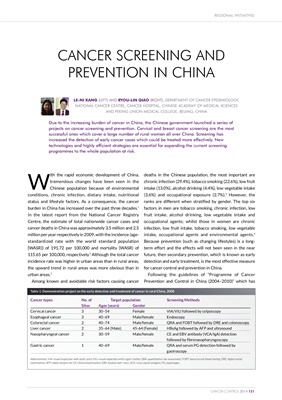 REGIONAL INITIATIVES
132 CANCER CONTROL 2014
been endorsed by World Health Organization as an example
of a top-down planning process5
, a series of demonstration
projects have been proposed by the Cancer Foundation of
China and sponsored by the central government. At the very
beginning, two screening demonstration sites were
established for cervical cancer; one in Xiangyuan, Shanxi
Province, for a rural model and the other in Shenzhen for an
urban model6 and two esophageal cancer sites for the rural
model in the Grand Junction Area of Taihang Mountain in
2004. Subsequently, this has been expanded to 13
demonstration sites for six cancer types (including cervical
cancer, esophageal cancer, colorectal cancer, liver cancer,
nasopharyngeal cancer and gastric cancer) from 2008 (Figure
1). The target population and main screening methods for
each cancer in this demonstration project are listed in Table 1.
Based on the experience gained from the demonstration
projects and other countries, screening for cervical cancer
and breast cancer are the most effective ones with developed
technologies, which could be implemented on an extensive
scale. After expanding the project sites for cervical cancer
screening to five counties in 2006 and 43 in 2008, the
Ministry of Health and All-China Women's Federation
proposed a three-year project targeting 10 million women for
cervical cancer screening and 1.2 million women for breast
cancer screening in rural China in 2009-2011. The cervical
cancer screening was implemented on 221
sites across China with free
visual inspection with acetic
acid/iodine solution (VIA/VILI)
or Pap smear; and breast
cancer screening covered
women living in 200 counties
in China with free clinical
breast examination triaged
by ultrasound examination.7
In spite of this effort, the
estimation of the total
number of rural Chinese
women in the target age
group (i.e., 35-59 years)
who need this kind of
cervical cancer screening is
approximately 142 million.8
At the current rate of
expansion, it would take
another additional 40 years
to screen each woman within
this age group once. China
cannot wait any longer to
take measures to avoid this delay in screening.
With strong support from central government, this project
is continuing and has been tripled to 10 million women for
cervical cancer and 1.2 million women for breast cancer
screening per year from 2012. However, the limited capacity
of the current health service in China requires new highly
efficient technology to realize the goal of nationwide cervical
cancer screening. HPV DNA testing has been proved to be an
effective method for primary screening in both developed
and developing countries.9-11 Recently, the new rapid and
simple HPV DNA testing, careHPV, has been developed and
evaluated in multiple countries.12-15 It has a high sensitivity,
moderate specificity, and can test both clinician- and selfcollected specimens at 90 tests per run with a lower cost. This
technology has been approved by China Food and Drug
Administration in 2012 and is now in production. Combined
with self-sampling, HPV-based screening could improve the
participation rate to some extent, while the sensitivity is much
higher than VIA/VILI or Pap smear.
16 Scientists are now
promoting these new technologies or strategies to the current
national cervical cancer screening programme in China.
Besides nationwide implementation, screening for other
major cancers was also expanded in other high-risk areas. As
of 2013, there have been 110 sites for upper gastrointestinal
cancer (including esophageal cancer, cardiac cancer and
gastric cancer), 5 for colorectal cancer, 11 for liver cancer, 6
Esophageal (3)
Colo-rectal (2)
Nasopharyngeal (3)
Gastric (1)
Cervical (3)
Liver (2)
Figure 1: Map of demonstration sites for early detection and early treatment of cancer in China, 2008