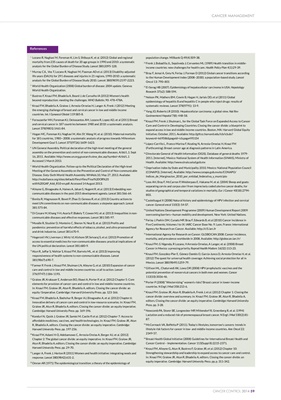 A
ccording to Globocan predictions, cancer incidence
will continue to increase throughout the world for
the foreseeable future.1
Yet countries differ
enormously in socioeconomic status (over a range of several
hundred-fold) and therefore in their capacity to recognize
and overcome obstacles to development. In this article, East
Africa is taken as an example of a small group of countries
with limited development (Table 1) facing many obstacles to
effective care of cancer patients. Demographic changes alone
in the five East African countries combined are projected to
result in 521,240 new cases in 2030, i.e., an increase of 81%
over the 2012 estimate of 287,264.
1 The corresponding
mortality figures are 380,730 and 208,456. Prevention of
cancer is an essential component of cancer control and
vaccination against cancer-causing viruses and tobacco
control will doubtless be components of each national cancer
control plan, but potentially curative treatment cannot be
ignored for patients who develop cancer. This article will deal
exclusively with obstacles faced by the medical community
charged with reducing the number of people who die from
cancer and particularly with the shortage of specialists
involved directly in the treatment of cancer.
Obstacles to increasing the capacity to diagnose and
treat cancer
Socioeconomic development
The major obstacle to reducing the mortality from cancer in
East Africa is the limited socioeconomic development of
these countries. When the components of the Human
Development Index (HDI), namely, longevity, level of
education and income2 are examined separately, it is clear
that they interact strongly. Poor education of health care
providers and the public gives rise to poor health care, whilst
ill-health has an important impact on the ability to learn and
to earn. Health and education are strongly influenced by
poverty, which modifies exposure to risk factors for ill-health
and reduces access to health care. Many factors influence
access, including few primary care providers close to home
(as many as 70% of people in East Africa may first consult
traditional healers) lack of public knowledge about cancer
and concern about the cost of cancer care; loss of income
coupled to the cost of travel and accommodation and fear of
cities (approximately 80% of people in East African live in
rural districts). Transportation is very difficult - journey times
are inordinately long and uncomfortable. While some of
BUILDING CAPACITY FOR CANCER
TREATMENT IN LOW-INCOME
COUNTRIES WITH PARTICULAR
REFERENCE TO EAST AFRICA
IAN MAGRATH (LEFT), PRESIDENT, INCTR AND SIMON SUTCLIFFE (RIGHT), INCTR CANADA
(TWO WORLDS CANCER COLLABORATION)
Cancer rates are presently increasing in low-income countries such as East Africa and are
highly likely to continue to do so. If this ever-increasing burden is to be controlled, it will be
particularly important to address the need for cancer specialists, and to plan for efficient and
widely accessible cancer services. Alternative pathways for training, which are hospital rather
than university-centred should be considered. Teaching would be largely "on-the-job
training" with trainee specialists having patient responsibilities, supervised as necessary, as
well as access to educational materials designed for self-learning, and on-line information.
This approach should increase the number of specialists trained without reducing the number
of doctors available for patient care, although a new accreditation process will be necessary.
In addition, national early diagnosis programmes should be established, thus minimizing the
need for complex surgery, chemotherapy and radiation, while task-shifting and oncologist-led
teams of health professionals will increase the efficiency of care and maximize survival rates.
CANCER MANAGEMENT
60 CANCER CONTROL 2014