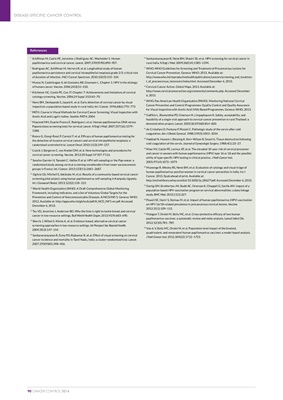 DISEASE-SPECIFIC CANCER CONTROL
CANCER CONTROL 2014 91
I
n recent years, the prevalence of HIV-1 infection has
decreased in many African countries, including
Zimbabwe.1 In addition, deaths from acquired immune
deficiency syndrome (AIDS) have reached a plateau: the
decline is attributable partly to improved access to treatment
for human immunodeficiency virus type 1 (HIV-1) infection
following support by PEPFAR and other global health
programmes. However, even with the rollout of antiretroviral
therapy (ART), malignancies associated with HIV-1 infection,
in particular AIDS-associated Kaposi sarcoma (AIDS-KS),
remain a major cause of morbidity and mortality. AIDS-KS is
the third leading cause of death among people initiating
antiretroviral therapy in southern Africa. Reduction in the
burden of AIDS-KS in Africa will require improved strategies
to address the prevention and treatment of this malignancy,
and its associated symptoms, particularly in primary care
settings. In order to realize the greatest possible benefits from
ART in Africa, it is important that AIDS-KS treatment
strategies be developed that are feasible and sustainable in
resource constrained areas.
Burden of AIDS-KS in the era of ART rollout in Africa
AIDS-KS results from co-infection with HIV-1 and Kaposi
sarcoma-associated herpes virus (KSHV or human herpes
virus-8, HHV-8). The high prevalence of HIV-1/KSHV coinfection in sub-Saharan
Africa places 30 -50% of HIV-1
infected Africans at risk for the development of AIDS-KS.2-7
The availability of ART was associated with a dramatic
decrease in AIDS-KS incidence in the developed countries.8
For various reasons initiation of ART as part of AIDS-KS
treatment in Africa presents unique challenges: frequent comorbid conditions, late presentation, persisting limitations in
access to ART, the need for concomitant chemotherapy and a
high mortality rate. Indeed, AIDS-KS continues to be a
significant cause of morbidity and mortality in sub-Saharan
Africa despite increased access to ART in recent years. KS is
the third leading cause of death in ART programmes in
southern Africa, causing 14% of deaths after initiation of ART8-
10 compared to 21% and 20% of deaths from M. tuberculosis
and Cryptococcus neoformans infections, respectively.
Kaposi sarcoma burden in Zimbabwe
Zimbabwe was one of the countries around the world that was
hardest hit by the AIDS epidemic with approximately 1.5
million people living with HIV-1 infection.12 Since 30% of HIV1 infected Zimbabweans are co-infected with KSHV12,
there
are large numbers of Zimbabweans who are at risk of
developing of AIDS-KS. Between 1987 and 1995 the
incidence of KS increased over 40-fold in Zimbabwean men
and over 200-fold in Zimbabwean women.
14 The peak
incidence of KS is in 20-40 year-old men and 20-30 year old
women. Among adults, KS is the most common cancer in men
STRATEGIES TO IMPROVE KAPOSI
SARCOMA OUTCOMES (SIKO):
AN EDUCATIONAL INTERVENTION
IN ZIMBABWE
MARGARET BOROK (LEFT), UNIVERSITY OF ZIMBABWE COLLEGE OF HEALTH SCIENCES, JAMES HAKIM,
UNIVERSITY OF ZIMBABWE COLLEGE OF HEALTH SCIENCES, JEAN KUTNER, UNIVERSITY OF COLORADO
DENVER, SAMANTHA MAWHINNEY, UNIVERSITY OF COLORADO DENVER, ERIC A F SIMÕES,
UNIVERSITY OF COLORADO DENVER AND THOMAS CAMPBELL, UNIVERSITY OF COLORADO DENVER
The SIKO study comprises an educational intervention at both urban and rural primary care centres
to increase early recognition and diagnosis of AIDS-KS, and to integrate palliative care principles
into its management. The study has developed a management algorithm to include digital
communication with the referral centre in Harare. It is hoped that the SIKO interventions will result
in earlier diagnosis, improved quality of life, survival and retention in care of patients with AIDS-KS.