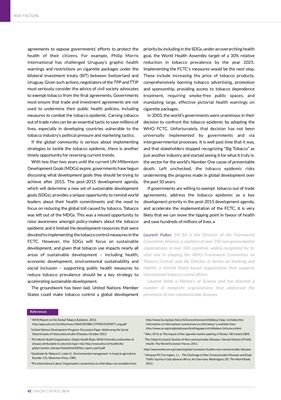 RISK FACTORS
CANCER CONTROL 2014 43
T
he harm caused by tobacco has been established
for decades, yet still one in five adults in the world
currently smokes cigarettes. Globally, tobacco use
kills nearly 6 million people a year, including
approximately 600,000 deaths resulting from
secondhand smoke exposure.1 If current trends continue,
it is estimated that tobacco will cause approximately 8
million deaths per year by 2030, and 1 billion total deaths
in the twenty-first century, the majority of which will
occur in low- and middle-income countries.2 While
tobacco use results in numerous adverse health
outcomes, it is estimated that one in five cancer deaths
worldwide is caused by smoking.
3 By 2015, it is projected
that 33% of all tobacco-related deaths worldwide will be
from cancer (Figure 1). Tobacco use is the only risk factor
shared by the four major non-communicable diseases
(Figure 2), and tobacco use must be addressed globally in
order to curb cancer deaths.
About The Tobacco Atlas
The Fourth Edition of The Tobacco Atlas was published in 2012
by the American Cancer Society and the World Lung
Foundation, and released at the 15th World Conference on
Tobacco or Health in Singapore. The first edition of The
Tobacco Atlas was published in 2002 by the World Health
Organization. The original Atlas preceded the WHO
Framework Convention on Tobacco Control (WHO FCTC),
GLOBAL TOBACCO USE AND
CANCER: FINDINGS AND
SOLUTIONS FROM THE
TOBACCO ATLAS
MICHAEL P ERIKSEN (LEFT), AMY L NYMAN (CENTRE) AND CARRIE F WHITNEY (RIGHT),
GEORGIA STATE UNIVERSITY, SCHOOL OF PUBLIC HEALTH
Tobacco use harms nearly every organ of the body and results in 6 million deaths annually. One
in five cancer deaths is caused by smoking and the death and harm from smoking is preventable.
While the relationship between tobacco and cancer is clear, it is further explained using statistics
and findings from The Tobacco Atlas, a tobacco control tool and global reference for monitoring
tobacco use prevalence, trends and statistics.
Projected Global
Tobacco-Caused Deaths
By cause, 2015 baseline scenario
Totals might not sum due to rounding.
1%Tuberculosis
90,000 2%Lower
Respiratory
Infections
150,000
3%Digestive
Diseases
200,000
33%Malignant
Neoplasms
2,120,000
29%Respiratory
Diseases
1,870,000
2%Diabetes
Mellitus
130,000
29%Cardiovascular
Diseases
1,860,000
Figure 1: Projected global tobacco-caused deaths
Source: Tobacco Atlas 4th edition; tobaccoatlas.org
MPOWER, the United Nations (UN) 2011 High Level
Meeting on Non-communicable Diseases, and considerable
global funding for tobacco control. The Tobacco Atlas monitors
changes in global tobacco control and illustrates the global
progress in tobacco control over the past decade, which has