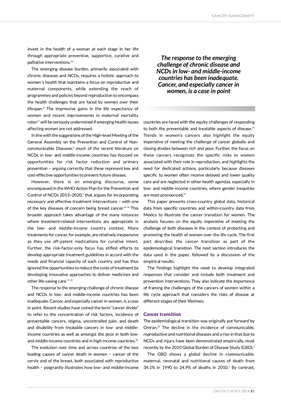 deaths from NCDs rose sharply and consistently and now
account for two out of every three deaths in the world. By
2010, approximately 54% of all DALYs were due to NCDs,
compared to 35% from communicable, maternal, neonatal
and nutritional disorders, and 11% due to injuries.2
These shifts in the burden of disease have been particularly
strong in low- and middle-income countries and the pattern
of epidemiological transition facing these countries has been
characterized as polarized and protracted.23 These countries
face the backlog of mortality and morbidity from infectious
diseases and conditions associated with poverty and
underdevelopment, together with an increasing burden of
chronic disease and NCDs and injury.23
A cancer transition has also been documented. Overall
cancer mortality has risen 38%3 and incidence is projected to
rise at twice the rate estimated for high-income countries.24
The term "cancer transition" is used to describe a decline in
wealthier parts of the world of many cancers of infectious
etiology and a rise in cancers with no known connection
to an infectious agent.24 There are exceptions such as
hepatocellular carcinoma which is increasing in high-income
countries such as the Unites States due in part to alcohol
consumption and Hepatitis B infection.25-27 Although there is
no specific relationship between the patterns across types of
cancers or notion of competing risk - i.e. reductions in the
burden of one type of cancer does do not necessarily leave
large groups of populations at risk of other cancers -
infection-associated cancers are emblematic of the overall
decline in communicable, reproductive and nutritional causes
of death, while increases in incidence and death from other
cancers parallel the rise in NCDs.
The cancer transition tends to be associated with the
socioeconomic development of populations both across and
within countries and can also be characterized as polarized
and protracted. Analogous to the overall epidemiological
transition in low- and middle-income countries, several
cancers are increasingly only of the poor, but these are not the
only cancers faced by the poor.20
Cancers of women are illustrative of this transition.
Cervical cancer, which is infectious in origin, is now and will
CANCER MANAGEMENT
52 CANCER CONTROL 2014
0
20
40
60
80
100
1953 1960 1970 1980 1990 2000 2002Rate per 100,000
Year
(a) Denmark
Breast cancer
Cervical cancer
1963 1970 1980 1990 2000 2002
Year
(b) Japan
1980 1990 2000 2002
Year
(c) Costa Rica
1983 1990 2000 2002
Year
(d) India
Breast cancer
Cervical cancer
Breast cancer
Cervical cancer
Breast cancer
Cervical cancer
0
20
40
60
80
100
Rate per 100,000
0
20
40
60
80
100
Rate per 100,000
0
20
40
60
80
100
Rate per 100,000
Figure 1: Trends in the incidence of breast and cervical cancer in selected populations: (a) Denmark, 1953-2002; (b) Osaka, Japan, 1963-2002; (c) Costa
Rica, 1980-2002; (d) India (combined data from 2 population-based registries in Chennai and Mumbai, India), 1983-2002
Data extracted from CI5plus (1)