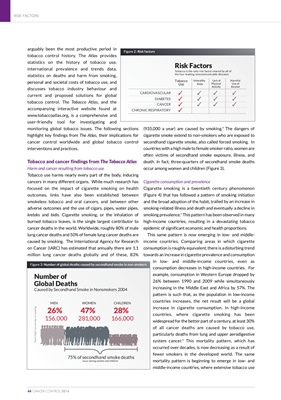 RISK FACTORS
CANCER CONTROL 2014 45
is a more recent phenomenon and the
pattern has the potential to continue in
countries where tobacco use is only
beginning. In 2011 alone, nearly 80% of
the 6 million tobacco-related deaths
occurred in low- and middle-income
countries. In some parts of Asia and
Eastern Europe, tobacco is responsible
for between one-quarter and one-third
of all male deaths (Figure 5).
The fact that these cancer deaths are
entirely preventable is paradoxically
frustrating and encouraging. Despite
the near universal knowledge of the
harm caused by tobacco use, smoking
continues to be widespread, with over 1 billion tobacco users
in the world today, and approximately half of all lifetime
smokers will eventually die of a related cause. At the same
time, evidence-based interventions are well established and
millions of lives could be saved if countries put into practice
what is known to be effective.
Gender differences in tobacco use
Globally, male smokers outnumber female smokers by
approximately 4:1, though this is likely to change as female
smokers in low- and middle-income countries begin to smoke
at higher rates, often the result of economic and social
changes in the country, coupled with tobacco industry
marketing and exposure. While smoking prevalence among
men is higher than among women, on average, there is
generally much less difference between the smoking
prevalence of teenage boys and girls. The implication is that
smoking rates among women are likely to rise even more as
Enough cigarettes
were consumed in 2009
for each man, woman,
and child in the world
to have smoked an
average of 865 cigarettes
or 43 packs.!
5711
5884
5328
4453
3262
2150
1686
1000
600
300
100
50
20
10
Global Cigarette
Consumption in
One Century
Increased Over
100 Times
Counted in
billions of cigarettes
1880 1890 1900 1910 1920 1930 1940 1950 1960 1970 1980 1990 2009 2000
5000b
4000b
3000b
2000b
1000b
Figure 4: Cigarette smoking as a twentieth century phenomenon
!
!
Tobacco use is the numberone
killer in China and is
responsible for 1.2 million
deaths annually. This
number is expected to
rise to 3.5 million deaths
annually by the year 2030.
Kazakhstan
Russian Federation
Armenia Maldives-
Turkey Belarus
38%
35%
33%
Poland31%
Netherlands28%
Belgium31%
Croatia28%
Bosnia &
Herzegovina
30%
29%
Hungary30%
28%
28%
Globally, tobacco
is responsible for
16% of deaths
among men and
7% of deaths
among women.
Male Deaths
Male deaths 28% and greater, 2004
Figure 5: Male deaths