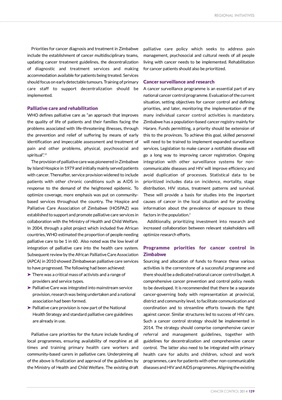 REGIONAL INITIATIVES
130 CANCER CONTROL 2014
References
1. UNICEF: Eastern and Southern Africa HIV and AIDS Issues. Available at
www.unicef.org/esaro/5482_hiv_aids.html
2. World Health Organization, September 2011. Non communicable diseases fact sheet.
Geneva, Switzerland
3. World Health Organization, May 2013. Zimbabwe: Health Profile
4. Zimbabwe: Gross domestic product.
http://www.tradingeconomics.com/zimbabwe/gdp accessed 9/15/13
5. Zimbabwe Demographic Health Survey 2010- 2011.
http://www.safaids.net/files/zimbabwe_dhs_survey_2010-11.pdf accessed 9/15/13
6. United Nations Development Programme: International Human Development
Indicators. http://hdrstats.undp.org/en/indicators/101406.html accessed 9/15/13
7. Chokunonga E, Borok MZ, Chirenje ZM and Nyakabau AM. Pattern of cancer in
Zimbabwe. Zimbabwe National Cancer Registry 2010 Annual Report
8. Chokunonga E, Borok MZ, Chirenje ZM and Nyakabau AM. Pattern of cancer in
Zimbabwe. Zimbabwe National Cancer Registry 2005 Annual Report
9. IARC Scientific Publication No. 162. Cancer survival in Africa, Asia, the Caribbean and
Central America. Lyon international Agency for Research on cancer. 2011
10.the Framework Convention on Tobacco Control.
http:iaslc.org/policies/declaration-on-tobacco
11.chokunonga E, Borok MZ, Chirenje ZM, Nyakabau AM And Parkin DM. Trends in the
incidence of cancer in the black population of Harare, Zimbabwe: 1991-2010. Int. J.
Cancer: 00, 000-000 (2013) VC 2013 UICC
12.national Cancer Control Programmes, Policies and Managerial Guidelines. 2012
health infrastructure to cancer management is also a priority.
Already some aspects of the cancer strategy draft are being
implemented. Availability of funding is critical to improve
access of cancer services particularly to the under-privileged
members of society.
Conclusion
Priorities for the control and care of patients with cancer in
Zimbabwe include finalization and launching of the existing
draft cancer prevention and control strategy.
HPV vaccination, cervical cancer screening and treatment
are a priority to reduce the disease burden of this most
common cancer which can be used as a performance
indicator for the Zimbabwe Cancer Prevention and Control
Programme. Control of other preventable cancers and early
detection of selected curable cancers should also be
prioritized. Cancer advocacy, dissemination of information
and communication are also essential for success. Cancer
treatment and palliative care need to be ongoing and
coordinated. Pillars for success include sustainable,
nationally funded, coordinated and collaborated cancer
control efforts with adequate infrastructure, equipment,
medicines and skilled health practitioners to optimize access.
All of the above can only be fulfilled with increased
financial commitment to the fight against cancer in
Zimbabwe. Although there is much political commitment, the
current financial limitations faced by the country are a major
setback. The financial gap needs to be filled to make cancer
treatment "free" for the ordinary Zimbabwean patient. l
Dr Anna Mary Nyakabau has been a clinical oncologist at
Parirenyatwa Hospital, Zimbabwe, since 1995. She is currently
the cancer control coordinator for Zimbabwe. She attained a
Diploma in Palliative Care at the University of Cape Town
(2006) and Master in Public Health at the University of
Zimbabwe (2011). Dr Nyakabau is the southern Africa Vice
President of the African Organization for Research and Training
in Cancer (AORTIC) and is a board member of various cancerrelated
organizations in Zimbabwe and regionally. Her
objectives are to improve cancer control activities in Zimbabwe
and the region, emphasizing a public health approach.