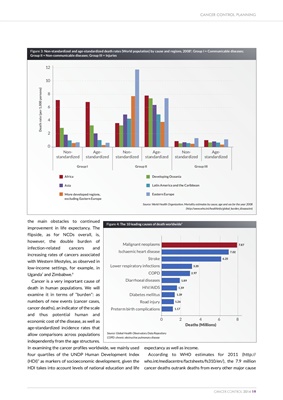 CANCER CONTROL PLANNING
20 CANCER CONTROL 2014
0 50 100 150 200
Low HDI
Medium HDI
High HDI
Very high HDI
China
India
Incidence, Men Mortality, Men
0 50 100 150 200
Low HDI
Medium HDI
High HDI
Very high HDI
China
India
Lung Stomach Liver Oesophagus Pancreas
Prostate Colorectum Bladder Other pharynx Lip, oral cavity
Age-standardized rate (World) per 100,000
Breast Cervix uteri Liver Ovary Stomach Pancreas
Colorectum Lung Corpus uteri Thyroid Oesophagus Lip, oral cavity
0 50 100 150 200
Low HDI
Medium HDI
High HDI
Very high HDI
China
India
Incidence, Women Mortality, Women
0 50 100 150 200
Low HDI
Medium HDI
High HDI
Very high HDI
China
India
Age-standardized rate (World) per 100,000
Age-standardized rate (World) per 100,000
Age-standardized rate (World) per 100,000
Figure 5: The five most common causes of cancer incidence and mortality by sex categorising countries according to four levels of human development
index
9
HDI: human index development
of death worldwide (Figure 4). Further, an estimated 4.2
million people died between the ages 30 and 69 from cancer
in the same year, representing the most common form of
premature death globally and almost one-third of the total
premature NCD mortality burden (of 13.8 million). Figure 5
illustrates the complexity of cancer by portraying the five
most common causes of cancer incidence and mortality by
sex, as estimated in GLOBOCAN in 2012,10 categorizing
countries according to four levels of HDI9 and separating the
vastly-populated countries of China and India. There are then
16 different types of cancer that can be considered major
forms of cancer in terms of frequency of occurrence or death
in one or more of these regions or countries, 10 in men and 12
in women.
Cancer thus differs from the other NCDs by including a
wide range of important cancer sites and types that vary
substantially with respect to their geographic distribution,
aetiology and treatment options.11 The IARC Monograph
series has recently provided up-to-date information on
cancer sites associated with more than 100 carcinogenic
agents.
12 Although some risk factors, notably smoking, can
affect a large number of cancer types
13-18 there is no
universal risk factor for cancer. In addition, different risk
factors, including those affecting early stages and late
stages of carcinogenesis, are typically involved in the
causation of cancer in any given site.
19 As is apparent in
Figure 5, distinct patterns of cancer types at a regional and
national level exist but prevention strategies should ideally
be implemented even in regions where those cancers are at
present relatively uncommon, given the full extent of
cancers related to those risk factors will appear only in the
future. Predictions of the future cancer burden derived
from the recent trends observed in the major cancers
alongside UN demographic projections, suggest the
number of new cases of cancer will surpass 20 million as
early as 2025, a 41% increase from 2012.
20
Confronting the rise of cancer: The role of
prevention
What can be done to tackle the impending cancer epidemic?