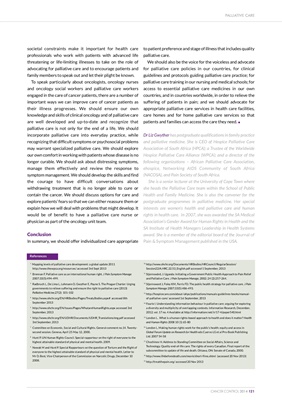 I
t has been estimated that in the developing world at least
160,000 children are diagnosed with cancer every year.2
Sadly, very few of them will receive adequate pain relief
and palliative care at any time in the course of their disease.
In India, the overall incidence of paediatric cancer per year is
38 to 124 per million children under 15 years of age.3 As in
other low-income countries, late diagnosis and lack of
resources means that, depending on the area in which they
live, anything from 17-72% of these children will die as a
result of their cancer.4 This can be put in perspective when
compared with the United States and United Kingdom where
only 20-24% of children with cancer will die.5,6 But, whether or
not they are eventually cured, young patients often find the
painful procedures they have to undergo the hardest part of
their disease to bear7
, and the stress this causes can also
negatively influence their chances of survival. It is very
upsetting for families to watch their children suffering and
they feel powerless to help them. Yet there are few paediatric
palliative care units in India, or culturally appropriate tools and
guidelines for best clinical practice to assess and prevent
children's pain.
Paediatric palliative care
Paediatric palliative care has been defined as a sub-specialty
that focuses on achieving the best possible quality of life for
children and their families living with life-threatening or
terminal conditions like HIV, AIDS and cancer. It deals with the
control of pain and other symptoms, and addresses the related
psychological, social and spiritual problems.8
It is vital that all medical facilities caring for children develop
paediatric palliative care programmes, along with rural and
urban outreach services, and strategies to raise public
awareness. As for adults, palliative care for children is
practised using an integrated, interdisciplinary approach (see
Figure 1). There should be good continuity of care, including
availability of expert nursing and physician help at all times,
and a team to help with the psychosocial and spiritual needs of
the family. Moreover, doctors and nurses working in oncology
should become acquainted with palliative attitudes,
techniques and knowledge.
An overly rigid separation between curative and palliative
care can lead to problems. As mentioned earlier, children who
will likely be cured benefit from pain relief measures just as
much as children and families facing deterioration and death.
Unfortunately, palliative care is often not offered to them
because it is wrongly assumed to be only needed during the
terminal period. In summary, using a broader "scope of care",
all children living with a life-threatening condition could
benefit from palliative management.
For these reasons, the World Health Organization in its
description of paediatric palliative care states: "Palliative care
begins when an illness is diagnosed, and continues
irrespective of whether or not a child receives diseasedirected treatment".9
Similarly, the American Academy of
Pediatrics recommends an integrated model of palliative care
"in which the components of palliative care are offered at
diagnosis and continued throughout the course of illness,
whether the outcome ends in cure or death".10
The paediatric palliative care programme in
Hyderabad
The Mehdi Nawaj Jung Institute of Oncology (MNJ) is a 300-
bed tertiary care hospital in the state of Andhra Pradesh in
India. Every year the hospital cares for around 1,000 children
with cancer. Most of the children require intensive curative
treatment over a lengthy period. Painful procedures, diseaseINTEGRATING
PALLIATIVE CARE
INTO A CHILDREN'S ONCOLOGY
SERVICE IN INDIA
GAYATRI PALAT (LEFT), PAX PROGRAM DIRECTOR, INDIA, TWO WORLDS CANCER
COLLABORATION, INCTR CANADA AND STUART BROWN (RIGHT), PAX DIRECTOR, TWO WORLDS
CANCER COLLABORATION, INCTR CANADA
Provision of palliative care is being recognized increasingly as a human rights issue.1 Nevertheless,
it is not available for many people with cancer and other serious diseases. This is particularly so for
vulnerable groups, including children in resource-poor countries.
PALLIATIVE CARE
122 CANCER CONTROL 2014