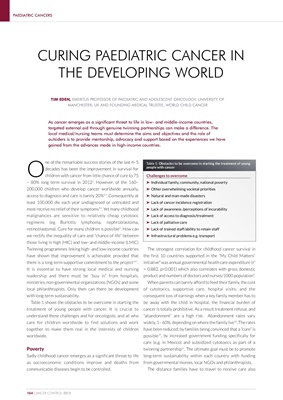 PAEDIATRIC CANCERS
CURING PAEDIATRIC CANCER IN
THE DEVELOPING WORLD
TIM EDEN, EMERITUS PROFESSOR OF PAEDIATRIC AND ADOLESCENT ONCOLOGY, UNIVERSITY OF
MANCHESTER, UK AND FOUNDING MEDICAL TRUSTEE, WORLD CHILD CANCER
As cancer emerges as a significant threat to life in low- and middle-income countries,
targeted external aid through genuine twinning partnerships can make a difference. The
local medical/nursing teams must determine the aims and objectives and the role of
outsiders is to provide mentorship, advocacy and support based on the experiences we have
gained from the advances made in high-income countries.
O
ne of the remarkable success stories of the last 4–5 Table 1: Obstacles to be overcome in starting the treatment of young
people with cancer
decades has been the improvement in survival for
children with cancer from little chance of cure to 75 Challenges to overcome
1
– 80% long term survival in 2012 . However, of the 160– ‰ Individual family, community, national poverty
200,000 children who develop cancer worldwide annually, ‰ Other overwhelming societal priorities
2,3
access to diagnosis and care is barely 20% . Consequently at ‰ Natural and man-made disasters
least 100,000 die each year undiagnosed or untreated and ‰ Lack of cancer incidence registration
3,4
most receive no relief of their symptoms . Yet many childhood ‰ Lack of awareness /perceptions of incurability
malignancies are sensitive to relatively cheap cytotoxic ‰ Lack of access to diagnosis/treatment
regimens (eg Burkitts lymphoma, nephroblastoma, ‰ Lack of palliative care
retinoblastoma). Cure for many children is possible4. How can ‰ Lack of trained staff/ability to retain staff
we rectify the inequality of care and "chance of life" between ‰ Infrastructural problems e.g. transport
those living in high (HIC) and low- and middle-income (LMIC)
Twinning programmes linking high- and low-income countries The strongest correlation for childhood cancer survival in
have shown that improvement is achievable provided that the first 10 countries supported in the "My Child Matters"
there is a long term supportive commitment to the project5,6,7. initiative8 was annual governmental health care expenditure (r2
It is essential to have strong local medical and nursing = 0.882, p<0.001) which also correlates with gross domestic
leadership and there must be "buy in" from hospitals, product and numbers of doctors and nurses/1000 population9.
ministries, non-governmental organizations (NGOs) and some When parents can barely afford to feed their family, the cost
local philanthropists. Only then can there be development of cytotoxics, supportive care, hospital visits; and the
with long-term sustainability. consequent loss of earnings when a key family member has to
Table 1 shows the obstacles to be overcome in starting the be away with the child in hospital, the financial burden of
treatment of young people with cancer. It is crucial to cancer is totally prohibitive. As a result treatment refusal, and
understand these challenges and for oncologists, and all who "abandonment" are a high risk. Abandonment rates vary
care for children worldwide to find solutions and work widely, 1– 60%, depending on where the family live10. The rates
together to make them real in the interests of children have been reduced; by families being convinced that a "cure" is
worldwide. possible10, by increased government funding specifically for
care (e.g. in Mexico) and subsidized cytotoxics as part of a
Poverty twinning partnership11. The ultimate goal must be to promote
Sadly childhood cancer emerges as a significant threat to life long-term sustainability within each country with funding
as socioeconomic conditions improve and deaths from from governmental monies, local NGOs and philanthropists.
communicable diseases begin to be controlled. The distance families have to travel to receive care also
104 CANCER CONTROL 2013