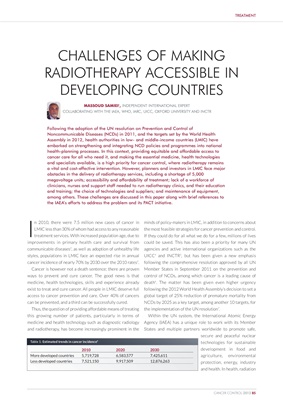 TREATMENT
CHALLENGES OF MAKING
RADIOTHERAPY ACCESSIBLE IN
DEVELOPING COUNTRIES
MASSOUD SAMIEI1, INDEPENDENT INTERNATIONAL EXPERT
COLLABORATING WITH THE IAEA, WHO, IARC, UICC, OXFORD UNIVERSITY AND INCTR
Following the adoption of the UN resolution on Prevention and Control of
Noncommunicable Diseases (NCDs) in 2011, and the targets set by the World Health
Assembly in 2012, health authorities in low- and middle-income countries (LMIC) have
embarked on strengthening and integrating NCD policies and programmes into national
health-planning processes. In this context, providing equitable and affordable access to
cancer care for all who need it, and making the essential medicine, health technologies
and specialists available, is a high priority for cancer control, where radiotherapy remains
a vital and cost-effective intervention. However, planners and investors in LMIC face major
obstacles in the delivery of radiotherapy services, including a shortage of 5,000
megavoltage units; accessibility and affordability of treatment; lack of a workforce of
clinicians, nurses and support staff needed to run radiotherapy clinics, and their education
and training; the choice of technologies and suppliers; and maintenance of equipment,
among others. These challenges are discussed in this paper along with brief references to
the IAEA's efforts to address the problem and its PACT initiative.
I
n 2010, there were 7.5 million new cases of cancer in minds of policy-makers in LMIC, in addition to concerns about
LMIC less than 30% of whom had access to any reasonable the most feasible strategies for cancer prevention and control.
treatment services. With increased population age, due to If they could do for all what we do for a few, millions of lives
improvements in primary health care and survival from could be saved. This has also been a priority for many UN
communicable diseases2, as well as adoption of unhealthy life agencies and active international organizations such as the
styles, populations in LMIC face an expected rise in annual UICC4 and INCTR5, but has been given a new emphasis
3
cancer incidence of nearly 70% by 2030 over the 2010 rates . following the comprehensive resolution approved by all UN
Cancer is however not a death sentence; there are proven Member States in September 2011 on the prevention and
ways to prevent and cure cancer. The good news is that control of NCDs, among which cancer is a leading cause of
medicine, health technologies, skills and experience already death6. The matter has been given even higher urgency
exist to treat and cure cancer. All people in LMIC deserve full following the 2012 World Health Assembly's decision to set a
access to cancer prevention and care. Over 40% of cancers global target of 25% reduction of premature mortality from
can be prevented, and a third can be successfully cured. NCDs by 2025 as a key target, among another 10 targets, for
Thus, the question of providing affordable means of treating the implementation of the UN resolution7.
this growing number of patients, particularly in terms of Within the UN system, the International Atomic Energy
medicine and health technology such as diagnostic radiology Agency (IAEA) has a unique role to work with its Member
and radiotherapy, has become increasingly prominent in the States and multiple partners worldwide to promote safe,
secure and peaceful nuclear
Table 1: Estimated trends in cancer incidence8 technologies for sustainable
2010 2020 2030 development in food and
More developed countries 5,719,728 6,583,577 7,425,611 agriculture, environmental
Less developed countries 7,521,150 9,917,509 12,876,263 protection, energy, industry
and health. In health, radiation
CANCER CONTROL 2013 85