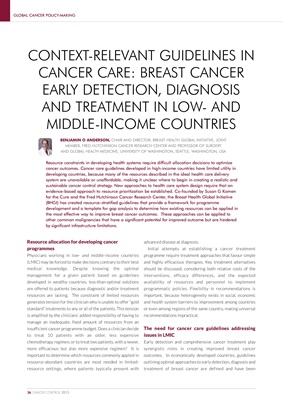 GLOBAL CANCER POLICY-MAKING
CONTEXT-RELEVANT GUIDELINES IN
CANCER CARE: BREAST CANCER
EARLY DETECTION, DIAGNOSIS
AND TREATMENT IN LOW- AND
MIDDLE-INCOME COUNTRIES
BENJAMIN O ANDERSON, CHAIR AND DIRECTOR, BREAST HEALTH GLOBAL INITIATIVE, JOINT
MEMBER, FRED HUTCHINSON CANCER RESEARCH CENTER AND PROFESSOR OF SURGERY
AND GLOBAL HEALTH MEDICINE, UNIVERSITY OF WASHINGTON, SEATTLE, WASHINGTON, USA
Resource constraints in developing health systems require difficult allocation decisions to optimize
cancer outcomes. Cancer care guidelines developed in high-income countries have limited utility in
developing countries, because many of the resources described in the ideal health care delivery
system are unavailable or unaffordable, making it unclear where to begin in creating a realistic and
sustainable cancer control strategy. New approaches to health care system design require that an
evidence-based approach to resource prioritization be established. Co-founded by Susan G Komen
for the Cure and the Fred Hutchinson Cancer Research Center, the Breast Health Global Initiative
(BHGI) has created resource-stratified guidelines that provide a framework for programme
development and a template for gap analysis to determine how existing resources can be applied in
the most effective way to improve breast cancer outcomes. These approaches can be applied to
other common malignancies that have a significant potential for improved outcome but are hindered
by significant infrastructure limitations.
Resource allocation for developing cancer advanced disease at diagnosis.
programmes Initial attempts at establishing a cancer treatment
Physicians working in low- and middle-income countries programme require treatment approaches that favour simple
(LMIC) may be forced to make decisions contrary to their best and highly efficacious therapies. Key treatment alternatives
medical knowledge. Despite knowing the optimal should be discussed, considering both relative costs of the
management for a given patient based on guidelines interventions, efficacy differences, and the expected
developed in wealthy countries, less-than-optimal solutions availability of resources and personnel to implement
are offered to patients because diagnostic and/or treatment programmatic policies. Flexibility in recommendations is
resources are lacking. The constraint of limited resources important, because heterogeneity exists in social, economic
generates tension for the clinician who is unable to offer "gold and health system barriers to improvement among countries
standard" treatments to any or all of the patients. This tension or even among regions of the same country, making universal
is amplified by the clinicians' added responsibility of having to recommendations impractical.
manage an inadequate, fixed amount of resources from an
insufficient cancer programme budget. Does a clinician decide The need for cancer care guidelines addressing
to treat 10 patients with an older, less expensive issues in LMIC
chemotherapy regimen, or to treat two patients, with a newer, Early detection and comprehensive cancer treatment play
more efficacious but also more expensive regimen? It is synergistic roles in creating improved breast cancer
important to determine which resources commonly applied in outcomes. In economically developed countries, guidelines
resource-abundant countries are most needed in limited- outlining optimal approaches to early detection, diagnosis and
resource settings, where patients typically present with treatment of breast cancer are defined and have been
36 CANCER CONTROL 2013