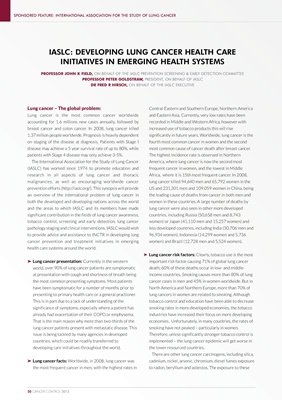 SPONSORED FEATURE: INTERNATIONAL ASSOCIATION FOR THE STUDY OF LUNG CANCER
IASLC: DEVELOPING LUNG CANCER HEALTH CARE
INITIATIVES IN EMERGING HEALTH SYSTEMS
PROFESSOR JOHN K FIELD, ON BEHALF OF THE IASLC PREVENTION SCREENING & EARLY DETECTION COMMITTEE
PROFESSOR PETER GOLDSTRAW, PRESIDENT, ON BEHALF OF IASLC
DR FRED R HIRSCH, ON BEHALF OF THE IASLC EXECUTIVE
Lung cancer – The global problem: Central-Eastern and Southern Europe, Northern America
Lung cancer is the most common cancer worldwide and Eastern Asia. Currently, very low rates have been
accounting for 1.6 millions new cases annually, followed by recorded in Middle and Western Africa, however with
breast cancer and colon cancer. In 2008, lung cancer killed increased use of tobacco products this will rise
1.37 million people worldwide. Prognosis is heavily dependent significantly in future years. Worldwide, lung cancer is the
on staging of the disease at diagnosis. Patients with Stage I fourth most common cancer in women and the second
disease may achieve a 5 year survival rate of up to 80%, while most common cause of cancer death after breast cancer.
patients with Stage 4 disease may only achieve 3-5%. The highest incidence rate is observed in Northern
The International Association for the Study of Lung Cancer America, where lung cancer is now the second most
(IASLC) has worked since 1974 to promote education and frequent cancer in women, and the lowest in Middle
research in all aspects of lung cancer and thoracic Africa, where it is 15th most frequent cancer. In 2008,
malignancies, as well as encouraging worldwide cancer lung cancer killed 94,640 men and 65,792 women in the
prevention efforts (http://iaslc.org/). This synopsis will provide US and 231,301 men and 109,059 women in China, being
an overview of the international problem of lung cancer in the leading cause of deaths from cancer in both men and
both the developed and developing nations across the world women in these countries. A large number of deaths by
and the areas to which IASLC and its members have made lung cancer were also seen in other more developed
significant contribution in the fields of lung cancer awareness, countries, including Russia (50,658 men and 8,743
tobacco control, screening and early detection, lung cancer women) or Japan (41,110 men and 15,257 women) and
pathology staging and clinical interventions. IASLC would wish less developed countries, including India (30,706 men and
to provide advice and assistance to INCTR in developing lung 96,934 women), Indonesia (14,299 women and 5,736
cancer prevention and treatment initiatives in emerging women) and Brazil (12,728 men and 5,524 women).
health care systems around the world.
‰ Lung cancer risk factors: Clearly, tobacco use is the most
‰ Lung cancer presentation: Currently in the western important risk factor causing 71% of global lung cancer
world, over 90% of lung cancer patients are symptomatic death; 60% of these deaths occur in low- and middle-
at presentation with cough and shortness of breath being income countries. Smoking causes more than 80% of lung
the most common presenting symptoms. Most patients cancer cases in men and 45% in women worldwide. But in
have been symptomatic for a number of months prior to North America and Northern Europe, more than 70% of
presenting to primary health care or a general practioner. lung cancers in women are related to smoking. Although
This is in part due to a lack of understanding of the tobacco control and education have been able to decrease
significance of symptoms, especially where a patient has smoking rates in more developed economies, the tobacco
already had exacerbation of their COPD or emphysema. industries have increased their focus on more developing
That is the main reason why more than two-thirds of the economies. Unfortunately, in many countries, the rates of
lung cancer patients present with metastatic disease. This smoking have not peaked – particularly in women.
issue is being tackled by many agencies in developed Therefore, unless significantly stronger tobacco control is
countries, which could be readily transferred to implemented – the lung cancer epidemic will get worse in
developing care initiatives throughout the world. the lower resourced countries.
There are other lung cancer carcinogens, including silica,
‰ Lung cancer facts: Worldwide, in 2008, lung cancer was cadmium, nickel, arsenic, chromium, diesel fumes exposure
the most frequent cancer in men, with the highest rates in to radon, beryllium and asbestos. The exposure to these
50 CANCER CONTROL 2013