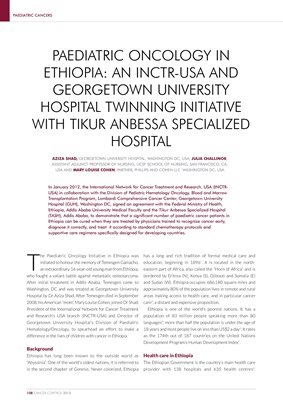 PAEDIATRIC CANCERS
PAEDIATRIC ONCOLOGY IN
ETHIOPIA: AN INCTR-USA AND
GEORGETOWN UNIVERSITY
HOSPITAL TWINNING INITIATIVE
WITH TIKUR ANBESSA SPECIALIZED
HOSPITAL
AZIZA SHAD, GEORGETOWN UNIVERSITY HOSPITAL, WASHINGTON DC, USA; JULIA CHALLINOR,
ASSISTANT ADJUNCT PROFESSOR OF NURSING, UCSF SCHOOL OF NURSING, SAN FRANCISCO, CA,
USA AND MARY LOUISE COHEN, PARTNER, PHILLIPS AND COHEN LLC. WASHINGTON DC, USA
In January 2012, the International Network for Cancer Treatment and Research, USA (INCTR-
USA) in collaboration with the Division of Pediatric Hematology Oncology, Blood and Marrow
Transplantation Program, Lombardi Comprehensive Cancer Center, Georgetown University
Hospital (GUH), Washington DC, signed an agreement with the Federal Ministry of Health,
Ethiopia, Addis Ababa University Medical Faculty and the Tikur Anbessa Specialized Hospital
(TASH), Addis Ababa, to demonstrate that a significant number of paediatric cancer patients in
Ethiopia can be cured when they are treated by physicians trained to recognize cancer early,
diagnose it correctly, and treat it according to standard chemotherapy protocols and
supportive care regimens specifically designed for developing countries.
T
he Paediatric Oncology Initiative in Ethiopia was has a long and rich tradition of formal medical care and
initiated to honour the memory of Temesgen Gamacho, education, beginning in 18961. It is located in the north-
an extraordinary 16-year-old young man from Ethiopia, eastern part of Africa, also called the "Horn of Africa" and is
who fought a valiant battle against metastatic osteosarcoma. bordered by Eritrea (N), Kenya (S), Djibouti and Somalia (E)
After initial treatment in Addis Ababa, Temesgen came to and Sudan (W). Ethiopia occupies 686,180 square miles and
Washington, DC and was treated at Georgetown University approximately 80% of the population lives in remote and rural
Hospital by Dr Aziza Shad. After Temesgen died in September areas making access to health care, and in particular cancer
2008, his American "mom", Mary Louise Cohen, joined Dr Shad, care2, a distant and expensive proposition.
President of the International Network for Cancer Treatment Ethiopia is one of the world's poorest nations. It has a
and Research's USA branch (INCTR-USA) and Director of population of 83 million people speaking more than 80
Georgetown University Hospital's Division of Paediatric languages3; more than half the population is under the age of
Hematology/Oncology, to spearhead an effort to make a 18 years and most people live on less than US$2 a day4. It rates
difference in the lives of children with cancer in Ethiopia. as the 174th out of 187 countries on the United Nations
Development Program's Human Development Index5.
Background
Ethiopia has long been known to the outside world as Health care in Ethiopia
"Abyssinia". One of the world's oldest nations, it is referred to The Ethiopian Government is the country's main health care
in the second chapter of Genesis. Never colonized, Ethiopia provider with 138 hospitals and 635 health centres6.
108 CANCER CONTROL 2013