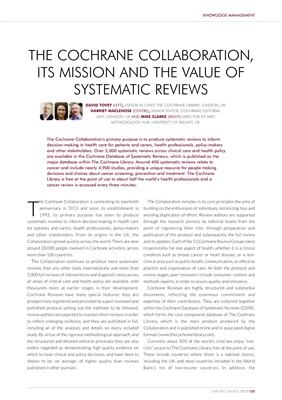 KNOWLEDGE MANAGEMENT
THE COCHRANE COLLABORATION,
ITS MISSION AND THE VALUE OF
SYSTEMATIC REVIEWS
DAVID TOVEY (LEFT), EDITOR IN CHIEF, THE COCHRANE LIBRARY, LONDON, UK
HARRIET MACLEHOSE (CENTRE), SENIOR EDITOR, COCHRANE EDITORIAL
UNIT, LONDON, UK AND MIKE CLARKE (RIGHT) DIRECTOR OF MRC
METHODOLOGY HUB, UNIVERSITY OF BELFAST, UK
The Cochrane Collaboration's primary purpose is to produce systematic reviews to inform
decision-making in health care for patients and carers, health professionals, policy-makers
and other stakeholders. Over 5,000 systematic reviews across clinical care and health policy
are available in the Cochrane Database of Systematic Reviews, which is published as the
major database within The Cochrane Library. Around 400 systematic reviews relate to
cancer and include nearly 4,900 studies, providing a unique resource for people making
decisions and choices about cancer screening, prevention and treatment. The Cochrane
Library is free at the point of use to about half the world's health professionals and a
cancer review is accessed every three minutes.
he Cochrane Collaboration is celebrating its twentieth The Collaboration includes in its core principles the aims of
T anniversary in 2013 and since its establishment in
1993, its primary purpose has been to produce
systematic reviews to inform decision-making in health care
building on the enthusiasm of individuals, minimizing bias and
avoiding duplication of effort. Review authors are supported
through the research process by editorial teams from the
for patients and carers, health professionals, policy-makers point of registering their title, through preparation and
and other stakeholders. From its origins in the UK, the publication of the protocol and subsequently the full review
Collaboration spread quickly across the world. There are now and its updates. Each of the 53 Cochrane Review Groups takes
around 28,000 people involved in Cochrane activities, across responsibility for one aspect of health, whether it is a clinical
more than 100 countries. condition such as breast cancer or heart disease, or a non-
The Collaboration continues to produce more systematic clinical area such as public health, communication, or effective
reviews than any other body internationally and more than practice and organization of care. At both the protocol and
5,000 full reviews of interventions and diagnostic tests across review stages, peer reviewers include consumer, content and
all areas of clinical care and health policy are available, with methods experts, in order to assure quality and relevance.
thousands more at earlier stages in their development. Cochrane Reviews are highly structured and substantial
Cochrane Reviews have many special features: they are documents, reflecting the enormous commitment and
prospectively registered and preceded by a peer reviewed and expertise of their contributors. They are collected together
published protocol setting out the methods to be followed, within the Cochrane Database of Systematic Reviews (CDSR),
review authors are expected to maintain their reviews in order which forms the core component database of The Cochrane
to reflect emerging evidence, and they are published in full, Library, which is the main product produced by the
including all of the analyses and details on every included Collaboration and is published online and in associated digital
study. By virtue of the rigorous methodological approach, and formats (www.thecochranelibrary.com).
the structured and detailed editorial processes they are also Currently about 50% of the world's clinicians enjoy "one-
widely regarded as demonstrating high quality evidence on click" access to The Cochrane Library, free at the point of use.
which to base clinical and policy decisions, and have been to These include countries where there is a national licence,
shown to be, on average, of higher quality than reviews including the UK, and most countries included in the World
1
published in other journals . Bank's list of low-income countries. In addition, the
CANCER CONTROL 2013 155