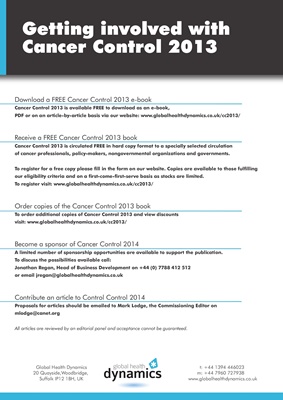 Getting involved with
Cancer Control 2013
Download a FREE Cancer Control 2013 e-book
Cancer Control 2013 is available FREE to download as an e-book,
PDF or on an article-by-article basis via our website: www.globalhealthdynamics.co.uk/cc2013/
Receive a FREE Cancer Control 2013 book
Cancer Control 2013 is circulated FREE in hard copy format to a specially selected circulation
of cancer professionals, policy-makers, nongovernmental organizations and governments.
To register for a free copy please fill in the form on our website. Copies are available to those fulfilling
our eligibility criteria and on a first-come-first-serve basis as stocks are limited.
To register visit: www.globalhealthdynamics.co.uk/cc2013/
Order copies of the Cancer Control 2013 book
To order additional copies of Cancer Control 2013 and view discounts
visit: www.globalhealthdynamics.co.uk/cc2013/
Become a sponsor of Cancer Control 2014
A limited number of sponsorship opportunities are available to support the publication.
To discuss the possibilities available call:
Jonathan Regan, Head of Business Development on +44 (0) 7788 412 512
or email jregan@globalhealthdynamics.co.uk
Contribute an article to Control Control 2014
Proposals for articles should be emailed to Mark Lodge, the Commissioning Editor on
mlodge@canet.org
All articles are reviewed by an editorial panel and acceptance cannot be guaranteed.
Global Health Dynamics global health t: +44 1394 446023
20 Quayside,Woodbridge,
Suffolk IP12 1BH, UK dynamics m: +44 7960 727938
www.globalhealthdynamics.co.uk