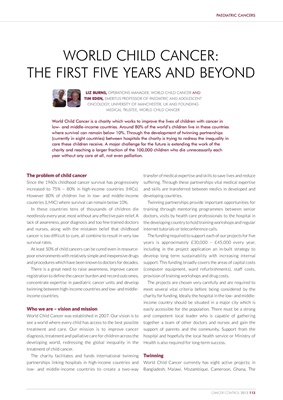 PAEDIATRIC CANCERS
WORLD CHILD CANCER:
THE FIRST FIVE YEARS AND BEYOND
LIZ BURNS, OPERATIONS MANAGER, WORLD CHILD CANCER AND
TIM EDEN, EMERITUS PROFESSOR OF PAEDIATRIC AND ADOLESCENT
ONCOLOGY, UNIVERSITY OF MANCHESTER, UK AND FOUNDING
MEDICAL TRUSTEE, WORLD CHILD CANCER
World Child Cancer is a charity which works to improve the lives of children with cancer in
low- and middle-income countries. Around 80% of the world's children live in these countries
where survival can remain below 10%. Through the development of twinning partnerships
(currently in eight countries) between hospitals the charity is trying to redress the inequality in
care these children receive. A major challenge for the future is extending the work of the
charity and reaching a larger fraction of the 100,000 children who die unnecessarily each
year without any care at all, not even palliation.
The problem of child cancer transfer of medical expertise and skills to save lives and reduce
Since the 1960s childhood cancer survival has progressively suffering. Through these partnerships vital medical expertise
increased to 75% – 80% in high-income countries (HICs). and skills are transferred between medics in developed and
However 80% of children live in low- and middle-income developing countries.
countries (LMIC) where survival can remain below 10%. Twinning partnerships provide important opportunities for
In these countries tens of thousands of children die training through mentoring programmes between senior
needlessly every year, most without any effective pain relief. A doctors, visits by health care professionals to the hospital in
lack of awareness, poor diagnosis and too few trained doctors the developing country to hold training workshops and regular
and nurses, along with the mistaken belief that childhood internet tutorials or teleconference calls.
cancer is too difficult to cure, all combine to result in very low The funding required to support each of our projects for five
survival rates. years is approximately £30,000 – £45,000 every year,
At least 50% of child cancers can be cured even in resource- including in the project application an in-built strategy to
poor environments with relatively simple and inexpensive drugs develop long term sustainability with increasing internal
and procedures which have been known to doctors for decades. support. This funding broadly covers the areas of capital costs
There is a great need to raise awareness, improve cancer (computer equipment, ward refurbishments), staff costs,
registration to define the cancer burden and record outcomes, provision of training workshops and drug costs.
concentrate expertise in paediatric cancer units and develop The projects are chosen very carefully and are required to
twinning between high-income countries and low- and middle- meet several vital criteria before being considered by the
income countries. charity for funding. Ideally the hospital in the low- and middle-
income country should be situated in a major city which is
Who we are – vision and mission easily accessible for the population. There must be a strong
World Child Cancer was established in 2007. Our vision is to and competent local leader who is capable of gathering
see a world where every child has access to the best possible together a team of other doctors and nurses and gain the
treatment and care. Our mission is to improve cancer support of parents and the community. Support from the
diagnosis, treatment and palliative care for children across the hospital and hopefully the local health service or Ministry of
developing world, redressing the global inequality in the Health is also required for long-term success.
treatment of child cancer.
The charity facilitates and funds international twinning Twinning
partnerships linking hospitals in high-income countries and World Child Cancer currently has eight active projects; in
low- and middle-income countries to create a two-way Bangladesh, Malawi, Mozambique, Cameroon, Ghana, The
CANCER CONTROL 2013 113