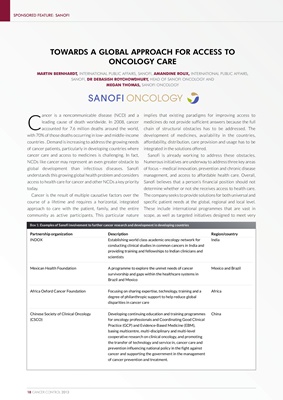 SPONSORED FEATURE: SANOFI
TOWARDS A GLOBAL APPROACH FOR ACCESS TO
ONCOLOGY CARE
MARTIN BERNHARDT, INTERNATIONAL PUBLIC AFFAIRS, SANOFI, AMANDINE ROUX, INTERNATIONAL PUBLIC AFFAIRS,
SANOFI, DR DEBASISH ROYCHOWDHURY, HEAD OF SANOFI ONCOLOGY AND
MEGAN THOMAS, SANOFI ONCOLOGY
ancer is a noncommunicable disease (NCD) and a implies that existing paradigms for improving access to
C leading cause of death worldwide. In 2008, cancer
accounted for 7.6 million deaths around the world,
with 70% of those deaths occurring in low- and middle-income
medicines do not provide sufficient answers because the full
chain of structural obstacles has to be addressed. The
development of medicines, availability in the countries,
countries . Demand is increasing to address the growing needs affordability, distribution, care provision and usage has to be
of cancer patients, particularly in developing countries where integrated in the solutions offered.
cancer care and access to medicines is challenging. In fact, Sanofi is already working to address these obstacles.
NCDs like cancer may represent an even greater obstacle to Numerous initiatives are underway to address three key areas
global development than infectious diseases. Sanofi of focus – medical innovation, prevention and chronic disease
understands this growing global health problem and considers management, and access to affordable health care. Overall,
access to health care for cancer and other NCDs a key priority Sanofi believes that a person's financial position should not
today. determine whether or not she receives access to health care.
Cancer is the result of multiple causative factors over the The company seeks to provide solutions for both universal and
course of a lifetime and requires a horizontal, integrated specific patient needs at the global, regional and local level.
approach to care with the patient, family, and the entire These include international programmes that are vast in
community as active participants. This particular nature scope, as well as targeted initiatives designed to meet very
Box 1: Examples of Sanofi involvement to further cancer research and development in developing countries
Partnership organization Description Region/country
INDOX Establishing world class academic oncology network for India
conducting clinical studies in common cancers in India and
providing training and fellowships to Indian clinicians and
scientists
Mexican Health Foundation A programme to explore the unmet needs of cancer Mexico and Brazil
survivorship and gaps within the healthcare systems in
Brazil and Mexico
Africa Oxford Cancer Foundation Focusing on sharing expertise, technology, training and a Africa
degree of philanthropic support to help reduce global
disparities in cancer care
Chinese Society of Clinical Oncology Developing continuing education and training programmes China
(CSCO) for oncology professionals and Coordinating Good Clinical
Practice (GCP) and Evidence-Based Medicine (EBM),
basing multicentre, multi-disciplinary and multi-level
cooperative research on clinical oncology, and promoting
the transfer of technology and service in, cancer care and
prevention influencing national policy in the fight against
cancer and supporting the government in the management
of cancer prevention and treatment.
18 CANCER CONTROL 2013