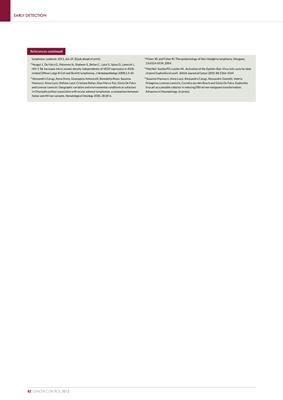 EARLY DETECTION
References continued
34.
lymphoma. Leukemia 2011, Jun 24. [Epub ahead of print]. Fisher SG and Fisher RI. The epidemiology of Non-Hodgkins lymphoma. Oncogene,
32.
Nyagol J., De Falco G., Palummo N., Shaheen S., Bellan C., Lazzi S., Spina D., Leoncini L. 23:6524-6534, 2004.
35.
HIV-1 Tat increases micro vessels density independently of VEGF expression in AIDS- MacNeil Sumba PO, Lutzke ML. Activation of the Epstein-Barr Virus lytic cycle by latex
related Diffuse Large B-Cell and Burkitt lymphomas. J Hematopathology 2008,1:3-10. of plant Euphorbia tirucalli. British Journal of Cancer 2003, 88:1566-1569.
33. 36.
Alessandro Carugi, Anna Onnis, Giuseppina Antonicelli, Benedetta Rossi, Susanna Susanna Mannucci, Anna Luzzi, Alessandro Carugi, Alessandro Gozzetti, Valeria
Mannucci, Anna Luzzi, Stefano Lazzi, Cristiana Bellan, Gian Marco Tosi, Giulia De Falco Malagnino, Lorenzo Leoncini, Cornelia van den Bosch and Giulia De Falco. Euphorbia
and Lorenzo Leoncini. Geographic variation and environmental conditions as cofactors tirucalli as a possible cofactor in inducing EBV-driven malignant transformation.
in Chlamydia psittaci association with ocular adnexal lymphomas: a comparison between Advances in Heamatology, (in press).
Italian and African samples. Hematological Oncology 2010, 28:20-6.
82 CANCER CONTROL 2013