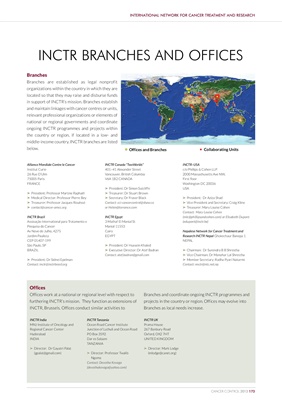 INTERNATIONAL NETWORK FOR CANCER TREATMENT AND RESEARCH
INCTR BRANCHES AND OFFICES
Branches
Branches are established as legal nonprofit
organizations within the country in which they are
located so that they may raise and disburse funds
in support of INCTR's mission. Branches establish
and maintain linkages with cancer centres or units,
relevant professional organizations or elements of
national or regional governments and coordinate
ongoing INCTR programmes and projects within
the country or region, if located in a low- and
middle-income country. INCTR branches are listed
below. Offices and Branches Collaborating Units
Alliance Mondiale Contre le Cancer INCTR Canada "TwoWorlds" INCTR–USA
Institut Curie 401–41 Alexander Street c/o Phillips & Cohen LLP
26 Rue D'Ulm Vancouver, British Columbia 2000 Massachusetts Ave NW,
75005 Paris V6A 1B2 CANADA First floor
FRANCE Washington DC 20036
‰ President: Dr Simon Sutcliffe USA
‰ President: Professor Martine Raphaël ‰ Treasurer: Dr Stuart Brown
‰ Medical Director: Professor Pierre Bey ‰ Secretary: Dr Fraser Black ‰ President: Dr Aziza Shad
‰ Treasurer: Professor Jacques Rouëssé Contact: cci-cancercontrol@shaw.ca ‰ Vice President and Secretary: Craig Kline
‰ contact@cancer-amcc.org or Helen@torrance.com ‰ Treasurer: Mary Louise Cohen
Contact: Mary Louise Cohen
INCTR Brazil INCTR Egypt (mlc@phillipsandcohen.com) or Elisabeth Dupont
Assioação International para Tratamento e 3 Mathaf El Manial St (edupont@inctr.be)
Pesquisa do Cancer Manial 11553
Av Nove de Julho, 4275 Cairo Nepalese Network for Cancer Treatment and
Jardim Paulista EGYPT Research INCTR Nepal Ghokechaur Banepa 1
CEP 01407-199 NEPAL
São Paulo, SP ‰ President: Dr Hussein Khaled
BRAZIL ‰ Executive Director: Dr Atef Badran ‰ Chairman: Dr Surendra B B Shrestha
Contact: atef.badran@gmail.com ‰ Vice Chairman: Dr Manohar Lal Shrestha
‰ President: Dr Sidnei Epelman ‰ Member Secretary: Radha Pyari Nakarmi
Contact: inctr@inctrbrasil.org Contact: nnctr@ntc.net.np
Offices
Offices work at a national or regional level with respect to Branches and coordinate ongoing INCTR programmes and
furthering INCTR's mission. They function as extensions of projects in the country or region. Offices may evolve into
INCTR, Brussels. Offices conduct similar activities to Branches as local needs increase.
INCTR India INCTR Tanzania INCTR UK
MNJ Institute of Oncology and Ocean Road Cancer Institute Prama House
Regional Cancer Center Junction of Luthuli and Ocean Road 267 Banbury Road
Hyderabad PO Box 3592 Oxford, OX2 7HT
INDIA Dar es Salaam UNITED KINGDOM
TANZANIA
‰ Director: Dr Gayatri Palat ‰ Director: Mark Lodge
(gpalat@gmail.com) ‰ Director: Professor Twalib (mlodge@canet.org)
Ngoma
Contact: Devotha Kovaga
(devothakovaga@yahoo.com)
CANCER CONTROL 2013 173