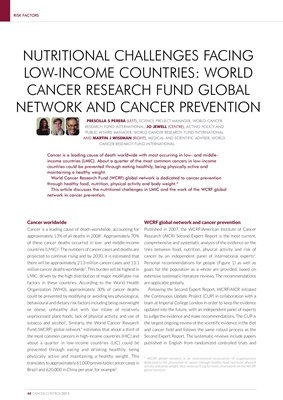 RISK FACTORS
NUTRITIONAL CHALLENGES FACING
LOW-INCOME COUNTRIES: WORLD
CANCER RESEARCH FUND GLOBAL
NETWORK AND CANCER PREVENTION
PRESCILLA S PERERA (LEFT), SCIENCE PROJECT MANAGER, WORLD CANCER
RESEARCH FUND INTERNATIONAL, JO JEWELL (CENTRE), ACTING POLICY AND
PUBLIC AFFAIRS MANAGER, WORLD CANCER RESEARCH FUND INTERNATIONAL
AND MARTIN J WISEMAN (RIGHT), MEDICAL AND SCIENTIFIC ADVISER, WORLD
CANCER RESEARCH FUND INTERNATIONAL
Cancer is a leading cause of death worldwide with most occurring in low- and middle-
income countries (LMIC). About a quarter of the most common cancers in low-income
countries could be prevented through eating healthily, being physically active and
maintaining a healthy weight.
World Cancer Research Fund (WCRF) global network is dedicated to cancer prevention
through healthy food, nutrition, physical activity and body weight.*
This article discusses the nutritional challenges in LMIC and the work of the WCRF global
network in cancer prevention.
Cancer worldwide WCRF global network and cancer prevention
Cancer is a leading cause of death worldwide, accounting for Published in 2007, the WCRF/American Institute of Cancer
1
approximately 13% of all deaths in 2008 . Approximately 70% Research (AICR) Second Expert Report is the most current,
of these cancer deaths occurred in low- and middle-income comprehensive and systematic analysis of the evidence on the
2
countries (LMIC) . The numbers of cancer cases and deaths are links between food, nutrition, physical activity and risk of
projected to continue rising and by 2030, it is estimated that cancer by an independent panel of international experts4.
there will be approximately 21.3 million cancer cases and 13.1 Personal recommendations for people (Figure 1) as well as
million cancer deaths worldwide1. This burden will be highest in goals for the population as a whole are provided, based on
LMIC, driven by the high distribution of major modifiable risk extensive systematic literature reviews. The recommendations
factors in these countries. According to the World Health are applicable globally.
Organization (WHO), approximately 30% of cancer deaths Following the Second Expert Report, WCRF/AICR initiated
could be prevented by modifying or avoiding key physiological, the Continuous Update Project (CUP) in collaboration with a
behavioural and dietary risk factors including being overweight team at Imperial College London in order to keep the evidence
or obese, unhealthy diet with low intake of relatively updated into the future, with an independent panel of experts
unprocessed plant foods, lack of physical activity, and use of to judge the evidence and make recommendations. The CUP is
tobacco and alcohol2. Similarly, the World Cancer Research the largest ongoing review of the scientific evidence in the diet
Fund (WCRF) global network* estimates that about a third of and cancer field and follows the same robust process as the
the most common cancers in high-income countries (HIC) and Second Expert Report. The systematic reviews include papers
about a quarter in low-income countries (LIC) could be published in English from randomized controlled trials and
prevented through eating and drinking healthily, being
physically active and maintaining a healthy weight. This * WCRF global network is an international association of organisations
translates to approximately 61,000 preventable cancer cases in dedicated to the prevention of cancer through healthy food, nutrition, physical
activity and body weight. Visit www.wcrf.org for more information on the WCRF
Brazil and 620,000 in China per year, for example3. global network.
44 CANCER CONTROL 2013