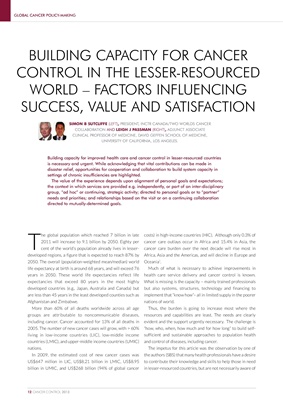 GLOBAL CANCER POLICY-MAKING
BUILDING CAPACITY FOR CANCER
CONTROL IN THE LESSER-RESOURCED
WORLD – FACTORS INFLUENCING
SUCCESS, VALUE AND SATISFACTION
SIMON B SUTCLIFFE (LEFT), PRESIDENT, INCTR CANADA/TWO WORLDS CANCER
COLLABORATION AND LEIGH J PASSMAN (RIGHT), ADJUNCT ASSOCIATE
CLINICAL PROFESSOR OF MEDICINE, DAVID GEFFEN SCHOOL OF MEDICINE,
UNIVERSITY OF CALIFORNIA, LOS ANGELES.
Building capacity for improved health care and cancer control in lesser-resourced countries
is necessary and urgent. While acknowledging that vital contributions can be made in
disaster relief, opportunities for cooperation and collaboration to build system capacity in
settings of chronic insufficiencies are highlighted.
The value of the experience depends upon alignment of personal goals and expectations;
the context in which services are provided e.g. independently, or part of an inter-disciplinary
group, "ad hoc" or continuing, strategic activity; directed to personal goals or to "partner"
needs and priorities; and relationships based on the visit or on a continuing collaboration
directed to mutually-determined goals.
T
he global population which reached 7 billion in late costs) in high-income countries (HIC). Although only 0.3% of
2011 will increase to 9.1 billion by 2050. Eighty per cancer care outlays occur in Africa and 15.4% in Asia, the
cent of the world's population already lives in lesser- cancer care burden over the next decade will rise most in
developed regions, a figure that is expected to reach 87% by Africa, Asia and the Americas, and will decline in Europe and
2050. The overall (population-weighted mean/median) world Oceania1.
life expectancy at birth is around 68 years, and will exceed 76 Much of what is necessary to achieve improvements in
years in 2050. These world life expectancies reflect life health care service delivery and cancer control is known.
expectancies that exceed 80 years in the most highly What is missing is the capacity – mainly trained professionals
developed countries (e.g., Japan, Australia and Canada) but but also systems, structures, technology and financing to
are less than 45 years in the least developed counties such as implement that "know how"– all in limited supply in the poorer
Afghanistan and Zimbabwe. nations of world.
More than 60% of all deaths worldwide across all age Thus, the burden is going to increase most where the
groups are attributable to noncommunicable diseases, resources and capabilities are least. The needs are clearly
including cancer. Cancer accounted for 13% of all deaths in evident and the support urgently necessary. The challenge is
2005. The number of new cancer cases will grow, with > 60% "how, who, when, how much and for how long" to build self-
living in low-income countries (LIC), low-middle income sufficient and sustainable approaches to population health
countries (LMIC), and upper-middle income countries (UMIC) and control of diseases, including cancer.
nations. The impetus for this article was the observation by one of
In 2009, the estimated cost of new cancer cases was the authors (SBS) that many health professionals have a desire
US$647 million in LIC, US$8.21 billion in LMIC, US$8.95 to contribute their knowledge and skills to help those in need
billion in UMIC, and US$268 billion (94% of global cancer in lesser-resourced countries, but are not necessarily aware of
12 CANCER CONTROL 2013