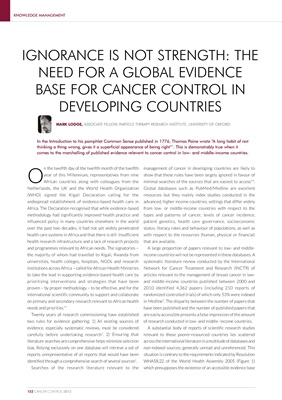 KNOWLEDGE MANAGEMENT
IGNORANCE IS NOT STRENGTH: THE
NEED FOR A GLOBAL EVIDENCE
BASE FOR CANCER CONTROL IN
DEVELOPING COUNTRIES
MARK LODGE, ASSOCIATE FELLOW, PARTICLE THERAPY RESEARCH INSTITUTE, UNIVERSITY OF OXFORD
In the Introduction to his pamphlet Common Sense published in 1776, Thomas Paine wrote "A long habit of not
thinking a thing wrong, gives it a superficial appearance of being right"1. This is demonstrably true when it
comes to the marshalling of published evidence relevant to cancer control in low- and middle-income countries.
n the twelfth day of the twelfth month of the twelfth management of cancer in developing countries are likely to
O year of this Millennium, representatives from nine
African countries along with colleagues from the
Netherlands, the UK and the World Health Organization
show that these rules have been largely ignored in favour of
minimal searches of the sources that are easiest to access5-8.
Global databases such as PubMed/Medline are excellent
(WHO) signed the Kigali Declaration calling for the resources but they mainly index studies conducted in the
widespread establishment of evidence-based health care in advanced, higher income countries; settings that differ widely
Africa. The Declaration recognised that while evidence-based from low- or middle-income countries with respect to the
methodology had significantly improved health practice and types and patterns of cancer, levels of cancer incidence,
influenced policy in many countries elsewhere in the world patient genetics, health care governance, socioeconomic
over the past two decades, it had not yet widely penetrated status, literacy rates and behaviour of populations, as well as
health care systems in Africa and that there is still insufficient with respect to the resources (human, physical or financial)
health research infrastructure and a lack of research projects that are available.
and programmes relevant to African needs. The signatories – A large proportion of papers relevant to low- and middle-
the majority of whom had travelled to Kigali, Rwanda from income countries will not be represented in these databases. A
universities, health colleges, hospitals, NGOs and research systematic literature review conducted by the International
institutions across Africa – called for African Health Ministries Network for Cancer Treatment and Research (INCTR) of
to take the lead in supporting evidence-based health care by articles relevant to the management of breast cancer in low-
prioritizing interventions and strategies that have been and middle-income countries published between 2000 and
proven – by proper methodology – to be effective, and for the 2010 identified 4,362 papers (including 210 reports of
international scientific community to support and collaborate randomized controlled trials) of which only 53% were indexed
on primary and secondary research relevant to African health in Medline9. The disparity between the number of papers that
needs and priorities.1" have been published and the number of published papers that
Twenty years of research commissioning have established are easily accessible presents a false impression of the amount
two rules for evidence gathering: 1) All existing sources of of research conducted in low- and middle -income countries.
evidence, especially systematic reviews, must be considered A substantial body of reports of scientific research studies
carefully before undertaking research3. 2) Ensuring that relevant to these poorer-resourced countries lies scattered
literature searches are comprehensive helps minimize selection across the international literature in a multitude of databases and
bias. Relying exclusively on one database will retrieve a set of non-indexed sources; generally unread and unreferenced. This
reports unrepresentative of all reports that would have been situation is contrary to the requirements indicated by Resolution
identified through a comprehensive search of several sources4. WHA58.22 of the World Health Assembly 2005 (Figure 1)
Searches of the research literature relevant to the which presupposes the existence of an accessible evidence base
152 CANCER CONTROL 2013