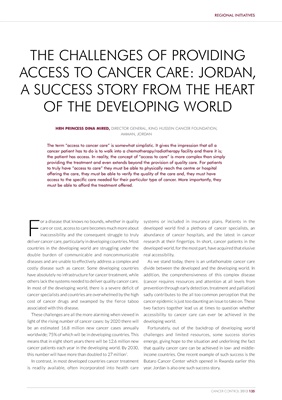 REGIONAL INITIATIVES
THE CHALLENGES OF PROVIDING
ACCESS TO CANCER CARE: JORDAN,
A SUCCESS STORY FROM THE HEART
OF THE DEVELOPING WORLD
HRH PRINCESS DINA MIRED, DIRECTOR GENERAL, KING HUSSEIN CANCER FOUNDATION,
AMMAN, JORDAN
The term "access to cancer care" is somewhat simplistic. It gives the impression that all a
cancer patient has to do is to walk into a chemotherapy/radiotherapy facility and there it is;
the patient has access. In reality, the concept of "access to care" is more complex than simply
providing the treatment and even extends beyond the provision of quality care. For patients
to truly have "access to care" they must be able to physically reach the centre or hospital
offering the care, they must be able to verify the quality of the care and, they must have
access to the specific care needed for their particular type of cancer. More importantly, they
must be able to afford the treatment offered.
F
or a disease that knows no bounds, whether in quality systems or included in insurance plans. Patients in the
care or cost, access to care becomes much more about developed world find a plethora of cancer specialists, an
inaccessibility and the consequent struggle to truly abundance of cancer hospitals, and the latest in cancer
deliver cancer care, particularly in developing countries. Most research at their fingertips. In short, cancer patients in the
countries in the developing world are struggling under the developed world, for the most part, have acquired that elusive
double burden of communicable and noncommunicable real accessibility.
diseases and are unable to effectively address a complex and As we stand today, there is an unfathomable cancer care
costly disease such as cancer. Some developing countries divide between the developed and the developing world. In
have absolutely no infrastructure for cancer treatment, while addition, the comprehensiveness of this complex disease
others lack the systems needed to deliver quality cancer care. (cancer requires resources and attention at all levels from
In most of the developing world, there is a severe deficit of prevention through early detection, treatment and palliation)
cancer specialists and countries are overwhelmed by the high sadly contributes to the all too common perception that the
cost of cancer drugs and swamped by the fierce taboo cancer epidemic is just too daunting an issue to take on. These
associated with this disease. two factors together lead us at times to question whether
These challenges are all the more alarming when viewed in accessibility to cancer care can ever be achieved in the
light of the rising number of cancer cases: by 2020 there will developing world.
be an estimated 16.8 million new cancer cases annually Fortunately, out of the backdrop of developing world
worldwide; 75% of which will be in developing countries. This challenges and limited resources, some success stories
means that in eight short years there will be 12.6 million new emerge, giving hope to the situation and underlining the fact
cancer patients each year in the developing world. By 2030, that quality cancer care can be achieved in low- and middle-
1
this number will have more than doubled to 27 million . income countries. One recent example of such success is the
In contrast, in most developed countries cancer treatment Butaro Cancer Center which opened in Rwanda earlier this
is readily available, often incorporated into health care year. Jordan is also one such success story.
CANCER CONTROL 2013 135