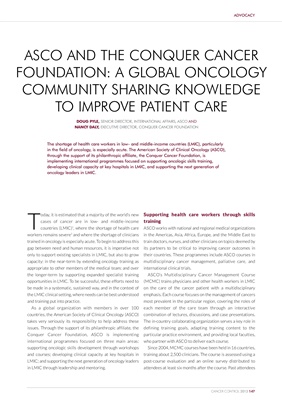 ADVOCACY
ASCO AND THE CONQUER CANCER
FOUNDATION: A GLOBAL ONCOLOGY
COMMUNITY SHARING KNOWLEDGE
TO IMPROVE PATIENT CARE
DOUG PYLE, SENIOR DIRECTOR, INTERNATIONAL AFFAIRS, ASCO AND
NANCY DALY, EXECUTIVE DIRECTOR, CONQUER CANCER FOUNDATION
The shortage of health care workers in low- and middle-income countries (LMIC), particularly
in the field of oncology, is especially acute. The American Society of Clinical Oncology (ASCO),
through the support of its philanthropic affiliate, the Conquer Cancer Foundation, is
implementing international programmes focused on supporting oncologic skills training,
developing clinical capacity at key hospitals in LMIC, and supporting the next generation of
oncology leaders in LMIC.
Supporting health care workers through skills
T
oday, it is estimated that a majority of the world's new
cases of cancer are in low- and middle-income training
countries (LMIC)1, where the shortage of health care ASCO works with national and regional medical organizations
2
workers remains severe and where the shortage of clinicians in the Americas, Asia, Africa, Europe, and the Middle East to
trained in oncology is especially acute. To begin to address this train doctors, nurses, and other clinicians on topics deemed by
gap between need and human resources, it is imperative not its partners to be critical to improving cancer outcomes in
only to support existing specialists in LMIC, but also to grow their countries. These programmes include ASCO courses in
capacity: in the near-term by extending oncology training as multidisciplinary cancer management, palliative care, and
appropriate to other members of the medical team; and over international clinical trials.
the longer-term by supporting expanded specialist training ASCO's Multidisciplinary Cancer Management Course
opportunities in LMIC. To be successful, these efforts need to (MCMC) trains physicians and other health workers in LMIC
be made in a systematic, sustained way, and in the context of on the care of the cancer patient with a multidisciplinary
the LMIC clinical setting, where needs can be best understood emphasis. Each course focuses on the management of cancers
and training put into practice. most prevalent in the particular region, covering the roles of
As a global organization with members in over 100 each member of the care team through an interactive
countries, the American Society of Clinical Oncology (ASCO) combination of lectures, discussions, and case presentations.
takes very seriously its responsibility to help address these The in-country collaborating organization serves a key role in
issues. Through the support of its philanthropic affiliate, the defining training goals, adapting training content to the
Conquer Cancer Foundation, ASCO is implementing particular practice environment, and providing local faculties,
international programmes focused on three main areas: who partner with ASCO to deliver each course.
supporting oncologic skills development through workshops Since 2004, MCMC courses have been held in 16 countries,
and courses; developing clinical capacity at key hospitals in training about 2,500 clinicians. The course is assessed using a
LMIC; and supporting the next generation of oncology leaders post-course evaluation and an online survey distributed to
in LMIC through leadership and mentoring. attendees at least six months after the course. Past attendees
CANCER CONTROL 2013 147