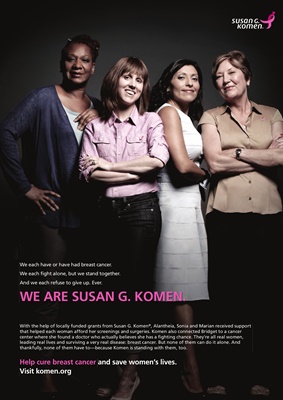 We each have or have had breast cancer.
We each fight alone, but we stand together.
And we each refuse to give up. Ever.
WE ARE SUSAN G. KOMEN.
With the help of locally funded grants from Susan G. Komen ®, Alantheia, Sonia and Marian received support
that helped each woman afford her screenings and surgeries. Komen also connected Bridget to a cancer
center where she found a doctor who actually believes she has a fighting chance. They're all real women,
leading real lives and surviving a very real disease: breast cancer. But none of them can do it alone. And
thankfully, none of them have to—because Komen is standing with them, too.