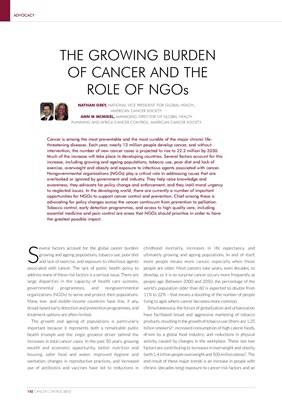 ADVOCACY
THE GROWING BURDEN
OF CANCER AND THE
ROLE OF NGOs
NATHAN GREY, NATIONAL VICE PRESIDENT FOR GLOBAL HEALTH,
AMERICAN CANCER SOCIETY
ANN M MCMIKEL, MANAGING DIRECTOR OF GLOBAL HEALTH
PLANNING AND AFRICA CANCER CONTROL, AMERICAN CANCER SOCIETY
Cancer is among the most preventable and the most curable of the major chronic life-
threatening diseases. Each year, nearly 13 million people develop cancer, and without
intervention, the number of new cancer cases is projected to rise to 22.2 million by 2030.
Much of the increase will take place in developing countries. Several factors account for this
increase, including growing and ageing populations, tobacco use, poor diet and lack of
exercise, overweight and obesity and exposure to infectious agents associated with cancer.
Nongovernmental organizations (NGOs) play a critical role in addressing issues that are
overlooked or ignored by government and industry. They help raise knowledge and
awareness; they advocate for policy change and enforcement; and they instil moral urgency
to neglected issues. In the developing world, there are currently a number of important
opportunities for NGOs to support cancer control and prevention. Chief among these is
advocating for policy changes across the cancer continuum from prevention to palliation.
Tobacco control, early detection programmes, and access to high quality care, including
essential medicine and pain control are areas that NGOs should prioritize in order to have
the greatest possible impact.
S
everal factors account for the global cancer burden: childhood mortality, increases in life expectancy, and
growing and ageing populations, tobacco use, poor diet ultimately growing and ageing populations. In and of itself,
and lack of exercise, and exposure to infectious agents more people means more cancer, especially when those
associated with cancer. The lack of public health policy to people are older. Most cancers take years, even decades, to
address many of these risk factors is a serious issue. There are develop, so it is no surprise cancer occurs more frequently as
large disparities in the capacity of health care systems, people age. Between 2000 and 2050, the percentage of the
governmental programmes, and nongovernmental world's population older than 60 is expected to double from
organizations (NGOs) to serve and protect their populations. 11% to 22% – that means a doubling of the number of people
Many low- and middle-income countries have few, if any, living to ages where cancer becomes more common.
broad-based early detection and prevention programmes, and Simultaneously, the forces of globalization and urbanization
treatment options are often limited. have facilitated broad and aggressive marketing of tobacco
The growth and ageing of populations is particularly products, resulting in the growth of tobacco use (there are 1.25
important because it represents both a remarkable public billion smokers)4; increased consumption of high calorie foods,
health triumph and the single greatest driver behind the driven by a global food industry; and reductions in physical
increases in total cancer cases. In the past 50 years, growing activity, caused by changes in the workplace. These last two
wealth and economic opportunity, better nutrition and factors are contributing to increases in overweight and obesity
housing, safer food and water, improved hygiene and (with 1.4 billion people overweight and 500 million obese)5. The
sanitation, changes in reproductive practices, and increased end result of these major trends is an increase in people with
use of antibiotics and vaccines have led to reductions in chronic (decades-long) exposure to cancer risk factors and an
142 CANCER CONTROL 2013