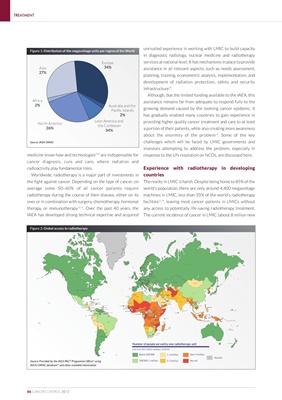 TREATMENT
Figure 1: Distribution of the megavoltage units per region of the World
unrivalled experience in working with LMIC to build capacity
in diagnostic radiology, nuclear medicine and radiotherapy
Europe services at national level. It has mechanisms in place to provide
Asia 34% assistance in all relevant aspects, such as needs assessment,
27%
planning, training, econometric analysis, implementation, and
development of radiation protection, safety and security
infrastructure10.
Although, due the limited funding available to the IAEA, this
Africa assistance remains far from adequate to respond fully to the
2% Australia and the
Pacific Islands growing demand caused by the looming cancer epidemic, it
2% has gradually enabled many countries to gain experience in
Latin America and providing higher quality cancer treatment and care to at least
North America
the Caribbean
26% a portion of their patients, while also creating more awareness
34%
about the enormity of the problem13. Some of the key
Source: IAEA-DIRAC challenges which will be faced by LMIC governments and
investors attempting to address the problem, especially in
9,10
medicine know-how and technologies are indispensable for response to the UN resolution on NCDs, are discussed here.
cancer diagnosis, cure and care, where radiation and
radioactivity play fundamental roles. Experience with radiotherapy in developing
Worldwide, radiotherapy is a major part of investments in countries
the fight against cancer. Depending on the type of cancer, on The reality in LMIC is harsh. Despite being home to 85% of the
average some 50–60% of all cancer patients require world's population, there are only around 4,400 megavoltage
radiotherapy during the course of their disease, either on its machines in LMIC, less than 35% of the world's radiotherapy
own or in combination with surgery, chemotherapy, hormonal facilities11,14, leaving most cancer patients in LMICs without
11,12
therapy, or immunotherapy . Over the past 40 years, the any access to potentially life-saving radiotherapy treatment.
IAEA has developed strong technical expertise and acquired The current incidence of cancer in LMIC (about 8 million new
Figure 2: Global access to radiotherapy
GREENLAND
ICELAND
R U S S I A N F E D E R A T I O N
FINLAND
CANADA
IRELAND
UKRAINE
MONGOLIA
PORTUGAL
TA
UNITED STATES OF AMERICA
REPUBLIC OF
C H I N A
P
JAPAN
Canary Islands GERIA
Y
LIBYA
WESTERN
T
THE BAHAMAS
SAHARA
W
WAN
INDIA
P
DOM. REP.
T
TANIA BANGLADESH
OMAN
MALI
MARTINIQUE E
CAPE VERDE CHAD
A
GUATEMALA A GAMBIA
BARBADOS
V
EL SALVADOR
GUINE
AD & TOBAGO
COS MARSHALL ISLANDS
SRI LANKA
FRE
FRENCH GUIANA
LIBERIA MALDIVES
EQU MALIA
MA
SOMA
SAO TOME & PRINCIPE
SEYCHELLES P
PAPUA
OMON ISLANDS
BRAZIL OMOROS
SAMOA
FIJI
MAURITIUS
Y M
MADAGASCAR
W CALEDONIA
CHILE AUSTRALIA
WAZILAND
W
OTHO
SOUTH AFRICA
A
Number of people served by one radiotherapy unit NEW ZEALAND
(data from IAEA-DIRAC database, 10/2010)
Below 500 000 1−2 million Over 5 million
No data
Source: Provided by the IAEA PACT Programme Office25 using 500 000−1 million 2−5 million No unit
IAEA's DIRAC database26 and other available information
86 CANCER CONTROL 2013