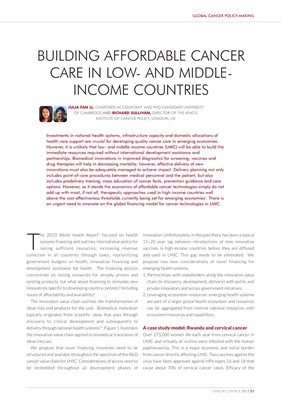 GLOBAL CANCER POLICY-MAKING
BUILDING AFFORDABLE CANCER
CARE IN LOW- AND MIDDLE-
INCOME COUNTRIES
JULIA FAN LI, CHARTERED ACCOUNTANT AND PHD CANDIDATE UNIVERSITY
OF CAMBRIDGE AND RICHARD SULLIVAN, DIRECTOR OF THE KING'S
INSTITUTE OF CANCER POLICY, LONDON, UK
Investments in national health systems, infrastructure capacity and domestic allocations of
health care support are crucial for developing quality cancer care in emerging economies.
However, it is unlikely that low- and middle-income countries (LMIC) will be able to build the
immediate resources required without international development assistance and
partnerships. Biomedical innovations in improved diagnostics for screening, vaccines and
drug therapies will help in decreasing mortality; however, effective delivery of new
innovations must also be adequately managed to achieve impact. Delivery planning not only
includes point-of-care procedures between medical personnel and the patient, but also
includes predelivery training, mass education of cancer facts, prevention guidance and care
options. However, as it stands the economics of affordable cancer technologies simply do not
add up with most, if not all, therapeutic approaches used in high income countries well
above the cost-effectiveness thresholds currently being set for emerging economies1. There is
an urgent need to innovate on the global financing model for cancer technologies in LMIC.
he 2010 World Health Report2 focused on health
T
innovation. Unfortunately, in the past there has been a typical
systems financing and outlines international policy for 15–20 year lag between introductions of new innovative
raising sufficient resources: increasing revenue vaccines in high-income countries before they are diffused
collection in all countries through taxes, reprioritizing and used in LMIC. This gap needs to be eliminated. We
government budgets on health, innovative financing and propose two new considerations of novel financing for
development assistance for health. The financing policies emerging health systems:
concentrate on raising resources for already proven and 1. Partnerships: with stakeholders along the innovation value
existing products, but what about financing to stimulate new chain (in discovery, development, delivery) with public and
innovations specific to developing country contexts? Including private innovators and across government initiatives.
issues of affordability and availability? 2. Leveraging ecosystem resources: emerging health systems
The innovation value chain outlines the transformation of are part of a larger global health ecosystem and resources
ideas into end products for the user. Biomedical innovation can be aggregated from internal national resources with
typically originates from scientific ideas that pass through ecosystem resources and capabilities.
discovery to clinical development and subsequently to
delivery through national health systems3,4. Figure 1 illustrates A case study model: Rwanda and cervical cancer
the innovation value chain applied to biomedical translation of Over 275,000 women die each year from cervical cancer in
ideas into use. LMIC and virtually all victims were infected with the human
We propose that novel financing incentives need to be papillomavirus. This is a major economic and social burden
structured and available throughout the spectrum of the R&D from cancer directly affecting LMIC. Two vaccines against the
cancer value chain for LMIC. Considerations of access need to virus have been approved against HPV types 16 and 18 that
be embedded throughout all development phases of cause about 70% of cervical cancer cases. Efficacy of the
CANCER CONTROL 2013 21