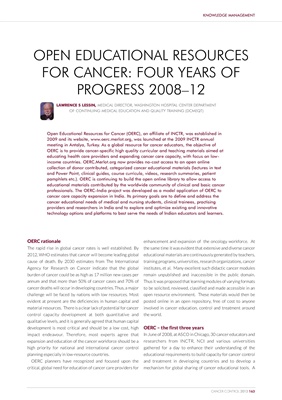 KNOWLEDGE MANAGEMENT
OPEN EDUCATIONAL RESOURCES
FOR CANCER: FOUR YEARS OF
PROGRESS 2008–12
LAWRENCE S LESSIN, MEDICAL DIRECTOR, WASHINGTON HOSPITAL CENTER DEPARTMENT
OF CONTINUING MEDICAL EDUCATION AND QUALITY TRAINING (DCMEQT)
Open Educational Resources for Cancer (OERC), an affiliate of INCTR, was established in
2009 and its website, www.oerc.merlot.org, was launched at the 2009 INCTR annual
meeting in Antalya, Turkey. As a global resource for cancer educators, the objective of
OERC is to provide cancer-specific high quality curricular and teaching materials aimed at
educating health care providers and expanding cancer care capacity, with focus on low-
income countries. OERC.Merlot.org now provides no-cost access to an open online
collection of donor contributed, categorized cancer educational materials (lectures in text
and Power Point, clinical guides, course curricula, videos, research summaries, patient
pamphlets etc.). OERC is continuing to build the open online library to allow access to
educational materials contributed by the worldwide community of clinical and basic cancer
professionals. The OERC-India project was developed as a model application of OERC to
cancer care capacity expansion in India. Its primary goals are to define and address the
cancer educational needs of medical and nursing students, clinical trainees, practising
providers and researchers in India and to explore and optimize existing and innovative
technology options and platforms to best serve the needs of Indian educators and learners.
OERC rationale enhancement and expansion of the oncology workforce. At
The rapid rise in global cancer rates is well established. By the same time it was evident that extensive and diverse cancer
2012, WHO estimates that cancer will become leading global educational materials are continuously generated by teachers,
cause of death. By 2030 estimates from The International training programs, universities, research organizations, cancer
Agency for Research on Cancer indicate that the global institutes, et al. Many excellent such didactic cancer modules
burden of cancer could be as high as 17 million new cases per remain unpublished and inaccessible in the public domain.
annum and that more than 50% of cancer cases and 70% of Thus it was proposed that learning modules of varying formats
cancer deaths will occur in developing countries. Thus, a major to be solicited, reviewed, classified and made accessible in an
challenge will be faced by nations with low resources. Most open resource environment. These materials would then be
evident at present are the deficiencies in human capital and posted online in an open repository, free of cost to anyone
material resources. There is a clear lack of potential for cancer involved in cancer education, control and treatment around
control capacity development at both quantitative and the world.
qualitative levels, and it is generally agreed that human capital
development is most critical and should be a low cost, high OERC – the first three years
impact endeavour. Therefore, most experts agree that In June of 2008, at ASCO in Chicago, 30 cancer educators and
expansion and education of the cancer workforce should be a researchers from INCTR, NCI and various universities
high priority for national and international cancer control gathered for a day to enhance their understanding of the
planning especially in low-resource countries. educational requirements to build capacity for cancer control
OERC planners have recognized and focused upon the and treatment in developing countries and to develop a
critical, global need for education of cancer care providers for mechanism for global sharing of cancer educational tools. A
CANCER CONTROL 2013 163