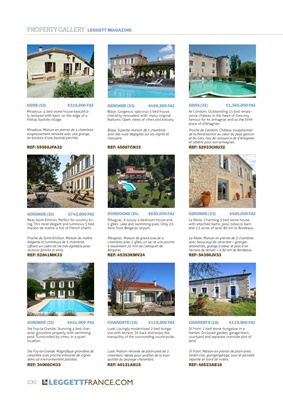 100
PROPERTY GALLERY LEGGETT MAGAZINE
GERS (32) €318,000 FAI
Miradoux. 4 bed stone house beautifully restored
with barn, on the edge of a
hilltop bastide village.
Miradoux. Maison en pierres de 4 chambres
soigneusement rénovée avec une grange,
en bordure d'une bastide perchée.
REF: 55958JFA32
GIRONDE (33) €489,500 FAI
Blaye. Gorgeous, spacious 5 bed house,
cherishly renovated, with many original
features. Open views of vines and estuary.
Blaye. Superbe maison de 5 chambres
avec des vues dégagées sur les vignes et
l'estuaire.
REF: 45067CN33
GERS (32) €1,365,000 FAI
Nr Condom. Outstanding 15 bed renaissance
château in the heart of Gascony,
famous for its armagnac and as the birth
place of d'Artagnan.
Proche de Condom. Château exceptionnel
de la Renaissance au cœur du pays gascon
et du Gers, lieu de naissance de d'Artagnan
et célèbre pour son armagnac.
REF: 52933CHU32
GIRONDE (33) €742,000 FAI
Near Saint-Emilion. Perfect for country living.
This most elegant and luminous 5 bed
maison de maÎtre is full of French charm.
Proche de Saint-Emilion. Maison de maître
élégante et lumineuse de 5 chambres
offrant un cadre de vie très agréable pour
recevoir famille et amis.
REF: 52841MK33
DORDOGNE (24) €650,000 FAI
Ribagnac. A luxury 4 bedroom house and
2 gÎtes. Lake and swimming pool. Only 20
mins from Bergerac airport.
Ribagnac. Maison de grand luxe de 4
chambres avec 2 gîtes, un lac et une piscine
à seulement 20 min de l'aéroport de
Bergerac.
REF: 45353KMV24
GIRONDE (33) €485,000 FAI
La Réole. Charming 3 bed stone house
with attached barns, pool, tobacco barn
and 2.5 acres of land. 80 km to Bordeaux.
La Réole. Maison en pierres de 3 chambres
avec beaucoup de caractère - granges
attenantes, grange à tabac et plus d'un
hectare de terrain - à 80 km de Bordeaux.
REF: 54396JV33
GIRONDE (33) €441,000 FAI
Ste Foy-la-Grande. Stunning 4 bed character girondine
property with swimming
pool. Surrounded by vines, in a quiet
location.
Ste Foy-la-Grande. Magnifique girondine de
caractère avec piscine entourée de vignes
dans un environnement paisible.
REF: 34066CH33
CHARENTE (16) €119,900 FAI
Luxé. Lovingly modernised 2 bed bungalow
with terrace. Sit back and enjoy the
tranquility of the surrounding countryside.
Luxé. Maison rénovée de plain-pied de 2
chambres. Idéale pour profiter de la tranquillité
du paysage charentais.
REF: 40121AB16
CHARENTE (16) €119,900 FAI
St Front. 2 bed stone bungalow in a
hamlet. Enclosed garden, garage/barn,
courtyard and separate riverside plot of
land.
St Front. Maison en pierres de plain-pied.
Jardin clos, grange/garage, cour et parcelle
séparée en bord de rivière.
REF: 48523AB16