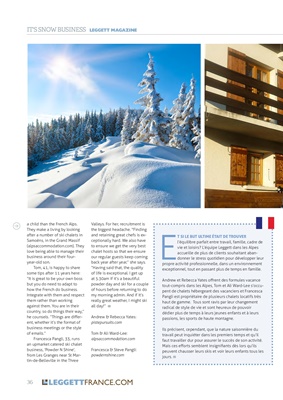 IT'S SNOW BUSINESS LEGGETT MAGAZINE E
T SI LE BUT ULTIME ÉTAIT DE TROUVER
l'équilibre parfait entre travail, famille, cadre de
vie et loisirs ? L'équipe Leggett dans les Alpes
accueille de plus de clients souhaitant abandonner le stress
quotidien pour développer leur
propre activité professionnelle, dans un environnement
exceptionnel, tout en passant plus de temps en famille.
Andrew et Rebecca Yates offrent des formules vacance
tout-compris dans les Alpes, Tom et Ali Ward-Lee s'occupent de chalets hébergeant
des vacanciers et Francesca
Pangli est propriétaire de plusieurs chalets locatifs très
haut de gamme. Tous sont ravis par leur changement
radical de style de vie et sont heureux de pouvoir
dédier plus de temps à leurs jeunes enfants et à leurs
passions, les sports de haute montagne.
Ils précisent, cependant, que la nature saisonnière du
travail peut inquiéter dans les premiers temps et qu'il
faut travailler dur pour assurer le succès de son activité.
Mais ces efforts semblent insignifiants dès lors qu'ils
peuvent chausser leurs skis et voir leurs enfants tous les
jours.
a child than the French Alps.
They make a living by looking
after a number of ski chalets in
Samoëns, in the Grand Massif
(alpsaccommodation.com). They
love being able to manage their
business around their fouryear-old
son.
Tom, 41, is happy to share
some tips after 11 years here:
"It is great to be your own boss
but you do need to adapt to
how the French do business.
Integrate with them and respect
them rather than working
against them. You are in their
country, so do things their way,"
he counsels. "Things are different, whether it's the format
of
business meetings or the style
of emails."
Francesca Pangli, 33, runs
an upmarket catered ski chalet
business, 'Powder N Shine',
from Les Granges near St Martin-de-Belleville
in the Three
Valleys. For her, recruitment is
the biggest headache. "Finding
and retaining great chefs is exceptionally
hard. We also have
to ensure we get the very best
chalet hosts so that we ensure
our regular guests keep coming
back year after year," she says.
"Having said that, the quality
of life is exceptional. I get up
at 5.30am if it's a beautiful
powder day and ski for a couple
of hours before returning to do
my morning admin. And if it's
really great weather, I might ski
all day!"
Andrew & Rebecca Yates:
Tom & Ali Ward-Lee:
Francesca & Steve Pangli: