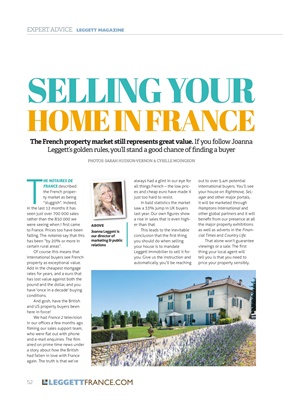 EXPERT ADVICE LEGGETT MAGAZINE
SELLING YOUR
HOME IN FRANCE
The French property market still represents great value. If you follow Joanna
Leggett's golden rules, you'll stand a good chance of finding a buyer
always had a glint in our eye for
all things French - the low prices and cheap euro
have made it
just too hard to resist.
In bald statistics the market
saw a 33% jump in UK buyers
last year. Our own figures show
a rise in sales that is even higher than that.
This leads to the inevitable
conclusion that the first thing
you should do when selling
your house is to mandate
Leggett Immobilier to sell it for
you. Give us the instruction and
automatically you'll be reaching
T
HE NOTAIRES DE
FRANCE described
the French property market
as being
"sluggish". Indeed,
in the last 12 months it has
seen just over 700 000 sales
rather than the 850 000 we
were seeing when I first came
to France. Prices too have been
falling. The notaires say that this
has been "by 20% or more in
certain rural areas".
Of course this means that
international buyers see French
property as exceptional value.
Add in the cheapest mortgage
rates for years, and a euro that
has lost value against both the
pound and the dollar, and you
have 'once in a decade' buying
conditions.
And gosh, have the British
and US property buyers been
here in force!
We had France 2 television
in our offices a few months ago
filming our sales support team,
who were flat out with phone
and e-mail enquiries. The film
aired on prime time news under
a story about how the British
had fallen in love with France
again. The truth is that we've
out to over 5.4m potential
international buyers. You'll see
your house on Rightmove, SeLoger
and other major portals,
it will be marketed through
Hamptons International and
other global partners and it will
benefit from our presence at all
the major property exhibitions
as well as adverts in the Financial Times
and Country Life.
That alone won't guarantee
viewings or a sale. The first
thing your local agent will
tell you is that you need to
price your property sensibly.
ABOVE
Joanna Leggett is
our director of
marketing & public
relations
PHOTOS: SARAH HUDSON-VERNON & CYRILLE MOINGEON