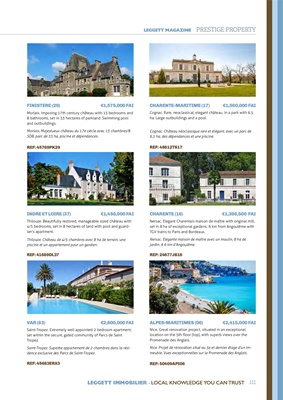 LEGGETT IMMOBILIER - LOCAL KNOWLEDGE YOU CAN TRUST 111
FINISTERE (29) €1,575,000 FAI
Morlaix. Imposing 17th century château with 13 bedrooms and
8 bathrooms, set in 33 hectares of parkland. Swimming pool
and outbuildings.
Morlaix. Majestueux château du 17e siècle avec 13 chambres/8
SDB, parc de 33 ha, piscine et dépendances.
REF: 45769PK29
CHARENTE-MARITIME (17) €1,560,000 FAI
Cognac. Rare, neoclassical, elegant château, in a park with 6.5
ha. Large outbuildings and a pool.
Cognac. Château néoclassique rare et élégant, avec un parc de
6,5 ha, des dépendances et une piscine.
REF: 48612TS17
INDRE ET LOIRE (37) €1,450,000 FAI
Thilouze. Beautifully restored, manageable sized château with
4/5 bedrooms, set in 8 hectares of land with pool and guardian's apartment.
Thilouze. Château de 4/5 chambres avec 8 ha de terrain, une
piscine et un appartement pour un gardien.
REF: 41689DL37
CHARENTE (16) €1,396,500 FAI
Nersac. Elegant Charentais maison de maître with original mill,
set in 8 ha of exceptional gardens. 6 km from Angoulême with
TGV trains to Paris and Bordeaux.
Nersac. Elégante maison de maître avec un moulin, 8 ha de
jardin. A 6 km d'Angoulême.
REF: 24677JB16
VAR (83) €2,600,000 FAI
Saint-Tropez. Extremely well appointed 2 bedroom apartment,
set within the secure, gated community of Parcs de Saint
Tropez.
Saint-Tropez. Superbe appartement de 2 chambres dans la résidence exclusive des Parcs
de Saint-Tropez.
REF: 45683ER83
ALPES-MARITIMES (06) €2,415,000 FAI
Nice. Great renovation project, situated in an exceptional
location on the 5th floor (top), with superb views over the
Promenade des Anglais.
Nice. Projet de rénovation situé au 5e et dernier étage d'un immeuble. Vues
exceptionnelles sur la Promenade des Anglais.
REF: 50409API06
LEGGETT MAGAZINE PRESTIGE PROPERTY