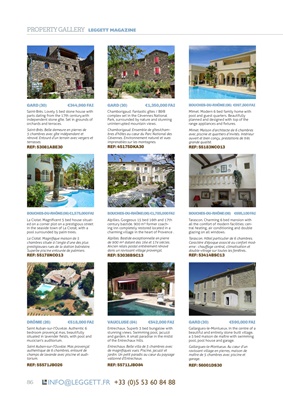 86
GARD (30) €344,960 FAI
Saint-Brès. Lovely 5 bed stone house with
parts dating from the 17th century,with
independent stone gîte. Set in grounds of
orchards and terraces.
Saint-Brès. Belle demeure en pierres de
5 chambres avec gîte indépendant et
rénové. Entouré d'un terrain avec vergers et
terrasses.
REF: 53081ABE30
GARD (30) €1,350,000 FAI
Chamborigaud. Fantastic gîtes / B&B
complex set in the Cévennes National
Park, surrounded by nature and stunning
uninterrupted mountain views.
Chamborigaud. Ensemble de gîtes/chambres d'hôtes au cœur du Parc
National des
Cévennes. Environnement naturel et vues
imprenables sur les montagnes.
REF: 45175DKA30
BOUCHES-DU-RHÔNE (06) €997,500 FAI
Mimet. Modern 6 bed family home with
pool and guest quarters. Beautifully
planned and designed with top of the
range appliances and fixtures.
Mimet. Maison d'architecte de 6 chambres
avec piscine et quartiers d'invités. Intérieur
ouvert et bien conçu, prestations de très
grande qualité.
REF: 55183NCO13
BOUCHES-DU-RHÔNE (06) €1,575,000 FAI
La Ciotat. Magnificent 5 bed house situated on a corner
plot on a prestigious street
in the seaside town of La Ciotat, with a
pool surrounded by palm trees.
La Ciotat. Magnifique maison de 5
chambres située à l'angle d'une des plus
prestigieuses rues de la station balnéaire.
Superbe piscine entourée de palmiers.
REF: 55178NCO13
BOUCHES-DU-RHÔNE (06) €1,785,000 FAI
Alpilles. Gorgeous 15 bed 16th and 17th
century bastide. 900 m² former coaching inn completely
restored located in a
charming village in the heart of Provence .
Alpilles. Bastide exceptionnelle en pierre
de 900 m² datant des 16e et 17e siècles.
Ancien relais postal entièrement rénové
dans un ravissant village provençal.
REF: 53038BSC13
BOUCHES-DU-RHÔNE (06) €695,100 FAI
Tarascon. Charming 6 bed mansion with
all the comfort of modern facilities: central
heating, air conditioning and double
glazing on all windows.
Tarascon. Hôtel particulier de 6 chambres.
Caractère d'époque associé au confort moderne : chauffage
central, climatisation et
double-vitrage sur toutes les fenêtres..
REF: 53414BSC13
DRÔME (26) €518,000 FAI
Saint Auban-sur-l'Ouvèze. Authentic 6
bedroom provenÇal mas, beautifully
situated in lavender fields, with pool and
musician's auditorium.
Saint Auban-sur-l'Ouvèze. Mas provençal
authentique de 6 chambres, entouré de
champs de lavande avec piscine et auditorium.
REF: 55571JBO26
VAUCLUSE (84) €542,000 FAI
Entrechaux. Superb 3 bed bungalow with
stunning views. Swimming pool, jacuzzi
and garden. A small paradise in the midst
of the Entrechaux hills.
Entrechaux. Belle villa de 3 chambres avec
de magnifiques vues. Piscine, jacuzzi et
jardin. Un petit paradis au cœur du paysage
vallonné d'Entrechaux.
REF: 55711JBO84
GARD (30) €590,000 FAI
Gallargues-le-Montueux. In the centre of a
beautiful and entirely stone built village,
a 5 bed maison de maître with swimming
pool, pool house and garage.
Gallargues-le-Montueux. Au cœur d'un
ravissant village en pierres, maison de
maître de 5 chambres avec piscine et
garage.
REF: 56001DS30
PROPERTY GALLERY LEGGETT MAGAZINE
info@leggett.frttp://leggett.fr" target="_blank" title="Visit leggett.fr">leggett.fr +33 (0)5 53 60 84 88