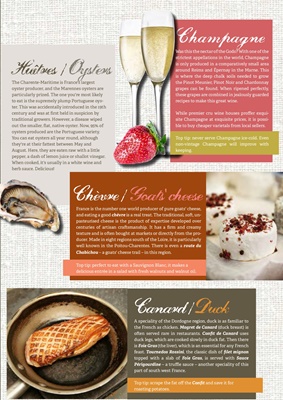 3737
Champagne
Canard / DuckA speciality of the Dordogne region, duck is as familiar to
the French as chicken. Magret de Canard (duck breast) is
often served rare in restaurants. Confit de Canard uses
duck legs, which are cooked slowly in duck fat. Then there
is Foie Gras (the liver), which is an essential for any French
feast. Tournedos Rossini, the classic dish of filet mignon
topped with a slab of Foie Gras, is served with Sauce
Périgourdine - a truffle sauce - another speciality of this
part of south west France.
Top tip: scrape the fat off the Confit and save it for
roasting potatoes.
Was this the nectar of the Gods? With one of the
strictest appellations in the world, Champagne
is only produced in a comparatively small area
around Reims and Épernay in the Marne. This
is where the deep chalk soils needed to grow
the Pinot Meunier, Pinot Noir and Chardonnay
grapes can be found. When ripened perfectly,
these grapes are combined in jealously guarded
recipes to make this great wine.
While premier cru wine houses proffer exquisite
Champagne at exquisite prices, it is possible to
buy cheaper varietals from local sellers.
Top tip: never serve Champagne ice-cold. Even
non-vintage Champagne will improve with
keeping.
Huîtres / OystersThe Charente-Maritime is France's largest
oyster producer, and the Marennes oysters are
particularly prized. The one you're most likely
to eat is the supremely plump Portuguese oyster.
This was accidentally introduced in the 19th
century and was at first held in suspicion by
traditional growers. However, a disease wiped
out the smaller, flat, native oyster. Now, 95% of
oysters produced are the Portuguese variety.
You can eat oysters all year round, although
they're at their fattest between May and
August. Here, they are eaten raw with a little
pepper, a dash of lemon juice or shallot vinegar.
When cooked, it's usually in a white wine and
herb sauce. Delicious!
France is the number one world producer of pure goats' cheese,
and eating a good chèvre is a real treat. The traditional, soft, unpasteurised
cheese is the product of expertise developed over
centuries of artisan craftsmanship. It has a firm and creamy
texture and is often bought at markets or directly from the producer.
Made in eight regions south of the Loire, it is particularly
well known in the Poitou-Charentes. There is even a route du
Chabichou - a goats' cheese trail - in this region.
Top tip: perfect to eat with a Sauvignon Blanc, it makes a
delicious entrée in a salad with fresh walnuts and walnut oil.
Chèvre / Goats' cheese