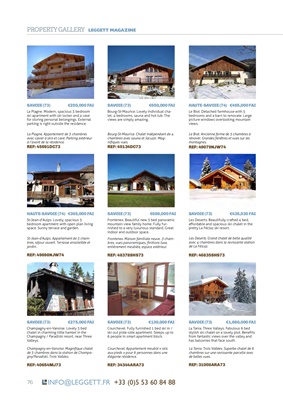 76
SAVOIE (73) €250,000 FAI
La Plagne. Modern, spacious 3 bedroom
ski apartment with ski locker and a cave
for storing personal belongings. External
parking is right outside the residence.
La Plagne. Appartement de 3 chambres
avec casier à skis et cave. Parking extérieur
à l'avant de la résidence.
REF: 45691DC73
SAVOIE (73) €650,000 FAI
Bourg-St-Maurice. Lovely individual chalet. 4 bedrooms,
sauna and hot tub. The
views are simply amazing.
Bourg-St-Maurice. Chalet indépendant de 4
chambres avec sauna et Jacuzzi. Magnifiques vues.
REF: 49134DC73
HAUTE-SAVOIE (74) €465,000 FAI
Le Biot. Detached farmhouse with 5
bedrooms and a barn to renovate. Large
picture windows overlooking mountain
views.
Le Biot. Ancienne ferme de 5 chambres à
rénovér. Grandes fenêtres et vues sur les
montagnes.
REF: 49079NJW74
HAUTE-SAVOIE (74) €365,000 FAI
St-Jean-d'Aulps. Lovely, spacious 3
bedroom apartment with open plan living
space. Sunny terrace and garden.
St-Jean-d'Aulps. Appartement de 3 chambres, séjour ouvert. Terrasse
ensoleillée et
jardin.
REF: 49698NJW74
SAVOIE (73) €689,000 FAI
Frontenex. Beautiful new 3 bed panoramic
mountain view family home. Fully furnished to a very
luxurious standard. Great
indoor and outdoor space.
Frontenex. Maison familiale neuve. 3 chambres, vues panoramiques,
finitions luxe,
entièrement meublée, espace extérieur.
REF: 48378SHS73
SAVOIE (73) €435,035 FAI
Les Deserts. Beautifully crafted 4 bed,
affordable and spacious ski chalet in the
pretty La Féclaz ski resort.
Les Deserts. Grand chalet de belle qualité
avec 4 chambres dans la ravissante station
de La Félcaz.
REF: 46835SHS73
SAVOIE (73) €275,000 FAI
Champagny-en-Vanoise. Lovely 3 bed
chalet in charming little hamlet in the
Champagny / Paradiski resort, near Three
Valleys.
Champagny-en-Vanoise. Magnifique chalet
de 3 chambres dans la station de Champagny/Paradiski,
Trois Vallées.
REF: 40654MJ73
SAVOIE (73) €130,000 FAI
Courchevel. Fully furnished 1 bed ski in /
ski out piste-side apartment. Sleeps up to
6 people in smart apartment block.
Courchevel. Appartement meublé « skis
aux pieds » pour 6 personnes dans une
élégante résidence.
REF: 34344ARA73
SAVOIE (73) €1,680,000 FAI
La Tania. Three Valleys. Fabulous 6 bed
stylish ski chalet on a lovely plot. Benefits
from fantastic views over the valley and
has balconies that face south.
La Tania. Trois Vallées. Superbe chalet de 6
chambres sur une ravissante parcelle avec
de belles vues.
REF: 31008ARA73
PROPERTY GALLERY LEGGETT MAGAZINE
info@leggett.frttp://leggett.fr" target="_blank" title="Visit leggett.fr">leggett.fr +33 (0)5 53 60 84 88