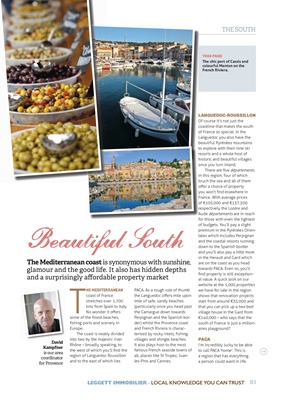 83
T
HE MEDITERRANEAN
coast of France
stretches over 1,700
kms from Spain to Italy.
No wonder it offers
some of the finest beaches,
fishing ports and scenery in
Europe.
The coast is neatly divided
into two by the majestic river
Rhône - broadly speaking, to
the west of which you'll find the
region of Languedoc Roussillon
and to the east of which lies
PACA. As a rough rule of thumb
the Languedoc offers mile upon
mile of safe, sandy beaches
(particularly once you head past
the Camargue down towards
Perpignan and the Spanish border) whilst the Provence
coast
and French Riviera is characterised by
rocky inlets, fishing
villages and shingle beaches.
It also plays host to the most
famous French seaside towns of
all, places like St Tropez, Juan-
les-Pins and Cannes.
Beautiful South
The Mediterranean coast is synonymous with sunshine,
glamour and the good life. It also has hidden depths
and a surprisingly affordable property market
LANGUEDOC-ROUSSILLON
Of course it's not just the
coastline that makes the south
of France so special. In the
Languedoc you also have the
beautiful Pyrénées mountains
to explore with their nine ski
resorts and a whole host of
historic and beautiful villages
once you turn inland.
There are five départements
in this region, four of which
touch the sea and all of them
offer a choice of property
you won't find elsewhere in
France. With average prices
of €105,000 and €137,300
respectively the Lozère and
Aude départements are in reach
for those with even the tightest
of budgets. You'll pay a slight
premium in the Pyrénées Orientales which includes Perpignan
and the coastal resorts running
down to the Spanish border
and you'll also pay a little more
in the Herault and Gard which
are on the coast as you head
towards PACA. Even so, you'll
find property is still exceptional value.
A quick look on our
website at the 1,000 properties
we have for sale in the region
shows that renovation projects
start from around €35,000 and
that you can pick up a two bed
village house in the Gard from
€140,000 - who says that the
south of France is just a millionaires
playground?
PACA
I'm incredibly lucky to be able
to call PACA 'home'. This is
a region that has everything
a person could want in life.
THE SOUTH
LEGGETT IMMOBILIER - LOCAL KNOWLEDGE YOU CAN TRUST
THIS PAGE
The chic port of Cassis and
colourful Menton on the
French Riviera.
David
Kampfner
is our area
coordinator
for Provence